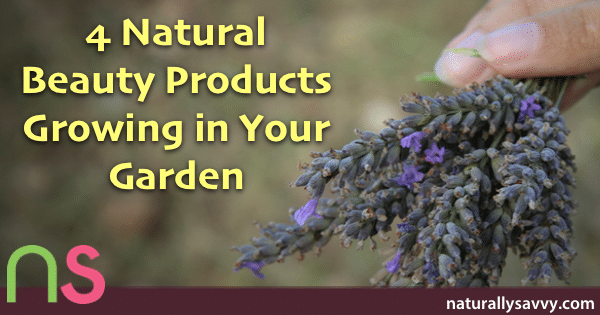 Image via Riccardo BonuccelliThe beauty industry is highly unregulated, and there are many commercial beauty products with less than desirable ingredients for you body and the planet. Gardening has many benefits, but one that people often overlook is that your own garden can give you access to many natural beauty products that have cosmetic benefits without the health or environmental risks of the conventional stuff. Using ingredients from your garden, you can cut down on the money you spend at the cosmetic counter, and you will have access to the freshest ingredients for your beauty regime. Your skin will love it, too. Are you growing any of these fantastic natural beauty products?
1. Lavender
When most people think of lavender, they think of its uses in aromatherapy and as a sleeping agent. It is often overlooked as a beauty product, but because of its many benefits, it may be worth reexamining when it comes to incorporating it into your beauty routine. Lavender is an antiseptic and antifungal, which help to speed healing and reduces scars from acne. It also has anti-inflammatory properties, which help reduce redness and blotchiness in your complexion. You can make your own lavender oil and mix a little bit with your daily moisturizer to receive these benefits.
2. Tomatoes
If you have an edible garden, you likely have tomato stakes full of fresh tomatoes. And if you grow more tomatoes than you know what to do with, it only makes sense to use them every way possible. Tomatoes can hydrate dry skin and combat oily skin at the same time.
For Dry Skin: If your skin is more on the dry side, crush up a tomato and apply the pulp to your skin. Let the pulp sit on your skin for a couple of minutes and then rinse off and pat dry.
For Oily Skin: If your skin happens to be on the more oily side, mix tomato paste with cucumber juice and apply it as you would a mask. Let the mixture sit on your face for 15-20 minutes before rinsing off. To make those pesky pimples disappear faster, apply a bit of tomato paste directly on the perpetrator. This will help to draw out the excess oils as well as decrease the redness.
3. Berries
Not only are berries a tasty treat when you are craving something sweet, but they also help to enhance your already natural beauty. Berries are full of rich antioxidants that slow down the aging process, helping to keep you looking younger longer. Berries also provide lots of rich colors that can be used for your lips, eyes and cheeks, so don't be afraid to add them to your morning beauty routine to give yourself a bit of color.
Make an Antioxidant Berry Mask: You can also use berries to reduce wrinkles, hydrate your skin, and reduce inflammation. To do so, make a mask out of mashed up berries mixed with honey and apply to your face. Let the mixture sit for 10 to 15 minutes and then rinse and pat dry.