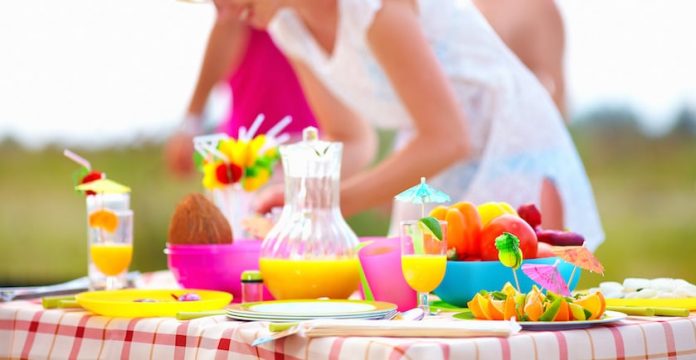 Summer is here, and that means barbecue season is in full swing. Andrea Donsky visited Breakfast Television to divulge her favorite healthy barbecue hacks – so you and your friends can enjoy a healthier BBQ season.
Click here to watch Andrea Donsky on Breakfast Television
1. Make Your Own Healthy Cocktails: Cocktails – coolers in particular – can be laden with artificial flavors, colors and added sugars. Instead, make your own clean cocktail by adding vodka, gin, or rum to an organic, cold-pressed juice. You'll enjoy a healthy assortment of vitamins, minerals and antioxidants, while avoiding unwanted artificial ingredients.
Read more about healthy drinks for your summer barbecue
2. Control Bugs with Party Decorations: Keep pests at bay with tabletop bug control baskets. Add bug-repellant potted herbs like rosemary and basil (which can be enjoyed with the food at your BBQ, too) and DEET-free bug sprays (like Dr. Mercola's Bug Spray) that use natural, great-smelling essential oils to keep bugs away from your barbecue in a convenient, ambience-enhancing way.
3. Get Creative with Party Snacks: Choose organic, non-GMO tortilla chips that come in a variety of natural, beautiful colors – like blue corn, or corn with beet – and serve with an easy, homemade salsa or guacamole. You can even grab a few friends to help with the easy preparation of these crowd-favorite dips as part of the BBQ fun. Also, use your barbecue as an opportunity to declutter your pantry by making your own Party Mix – combine partially eaten bags of popcorn, chocolate covered pretzels, kale chips – any snack food you've already vetted for clean ingredients.
4. Choose Non-Conventional Meats and Buns: Choose hormone- and antibiotic-free grass fed meat to give your barbecue a boost of nutrition. Instead of conventional buns that may have questionable ingredients and little-to-no fiber, choose sprouted-grain or whole grain buns. For an even more unique twist, use a cabbage or lettuce leaf to wrap hotdogs for a crunchy, healthy, and tasty alternative.
5. Diversify Condiments: Mix things up by using a mini muffin tin to offer a variety of adventurous toppings like kimchi, sauerkraut, guacamole, chopped herbs, and salsa along with conventional ketchup and mustard. Make your own delicious BBQ sauce by combining San-J's Organic Gluten-Free Tarmari, garlic, ginger, blood orange juice, honey and sesame oil for a healthy and tasty take on this barbecue staple.