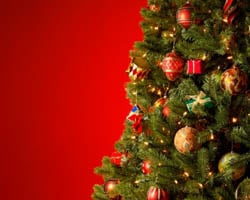 A question on the minds of many eco-conscious consumers this holiday season is: Which is less of an environmental burden, a live Christmas tree or an artificial one?
Oh PVC Christmas tree!
Consumers advocating the use of artificial trees cite many factors supporting their choice including convenience, cleanliness, fire concerns, perceived value, reusability and environmental issues.
From an environmental perspective, Christmas tree farms employ the use of insecticides to control pests, herbicides to keep growth down around the trees so they can be tended, and fertilizers to speed growth and achieve a nice rich green color. Improper use of these products can pose health risks and serious implications for local water quality, aquatic fauna and wildlife.
Trees need 7 to 10 years of this maintenance before they are harvested. Proponents of artificial trees cite that by keeping their tree for the same period saves 7 to 10 live trees, not to mention the fossil fuels burned to transport the natural trees (the vast majority of which are grown in Atlantic Canada and the eastern US) to the local vendors.
The Real McCoy
The National Christmas Tree Association in the US indicates that 85 per cent of the artificial trees purchased in North America are imported from South-eastern Asia, raising concerns about the strictness of the environmental regulations employed during their manufacture, as well as the amount of non-renewable fossil fuels required to get the trees to our shores. To top it off, most artificial trees are made from PVC plastic, the production of which emits a number of known carcinogens.
One acre of a live Christmas tree farm can remove up to 13,000 kilograms of airborne pollutants per year and produce enough oxygen for 18 people every day. Contrary to the belief that using artificial trees saves our forests and farmlands, the Canadian Christmas Tree Growers Association claims that the tree farms are most often located on land that would not sustain food crops and at least 3 seedlings are planted for every harvested tree. Real trees are also composted while artificial ones must go to a landfill.
A study in the late 1990s at the Institute for Air and Environment in Sweden analyzed the life cycle of both a natural and an artificial Christmas tree. The results demonstrated that a natural tree, locally grown, is five times more environmentally compatible than an imported plastic tree.
You might be wondering: "but what of the organic movement and Christmas trees?" There are currently environmentally-friendly (certified organic farms and farms that practice organic methods but are not yet certified) Christmas tree sources in many states and provinces across North America; however, the "green-ness" of an organic tree that has been trucked hundreds of miles is questionable versus a conventionally grown local tree that has come less than fifty miles. Many cities and towns have publications that list places to purchase or cut your own tree. These guides can be found at local food co-ops, natural grocery stores, farmers' markets or on the internet.
Last Stand
The ultimate tree for enviro-warriors everywhere may be one that comes roots and all. These trees are dug up with their roots intact, put in a pot, brought inside (for one week only), decorated and then replanted outside before the New Year. Additionally, some may prefer to go tree-less and bedeck their house plants with twinkling lights and tinsel. Ornament trees are another environmentally tree-less option. You can also collect fallen branches and secure them into a large weighted vase before decorating with strings of popcorn and cranberries or ornaments. These "trees" last all year and can be seasonally decorated as the New Year unfolds.
O, Tannenbaum! Whatever you choose, may your tree's branches delight you this holiday season.
References
1. www.christmastree.net
2. www.sierraclub.org/holidays/
3. www.christmastree.org
4. www.gov.pe.ca/af/agweb/index.php3?number=1016825
5. Vasil, Adria. Ecoholic: Your guide to the most environmentally friendly information, products and services in Canada. Random House, Canada. 2007.