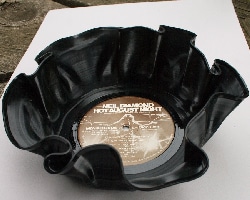 Whether it's part of a throwback to simpler times, or an interest in saving some money, there's no denying crafting and DIY are on an explosive upward trajectory. At the same time, green living has hit the main stream. If ever a marriage was made in heaven…
Enter the green craftivists, crafters who create and promote sustainable goods, and in doing so, highlight the value of eco-living.
While craftivism—a term that combines the words "craft" and "activism" and is attributed to Betsy Greer of Craftivism.com—spans all manner of isms, it has become an important part of the green crafting lexicon, and it drives many crafters to create within the context of self-imposed rules.
Julie Finn, a green crafter based in Bloomington, Indiana, works with "anything recycled, thrifted or dumpster-dived." But her work in green crafting is serious business: Finn sells her creations under the shop name PumpkinBear on Etsy.com, the online superstore for everything handmade and vintage, and she sticks to some strict, though ever evolving, guidelines.
"I've actually written a Green Crafting Manifesto for myself," Finn says. "It helps clarify for me the reasons that I craft, and the ethical boundaries that I've set for myself—things like I try to craft primarily with recycled materials or natural materials, and that I try to make something that I want or need instead of buying it, and that I try to work in ways that won't harm any of the earth's creatures."
Green crafting is a community that has flourished online, through blogs such as Crafting A Green World, Sew Green and SuperNaturale.
Finn is a regular contributor to Crafting A Green World, where she shares the ups and downs of her work, and tutorials for DIY projects. Writing is a passion, says Finn, and blogging about crafting and her children (she also has her own personal blog) is an extension of her daily life.
Green crafting blogs celebrate a passion for sustainable creativity, offering up tutorials, teaching readers about sustainable materials and pointing them to suppliers of natural, organic and recycled raw materials.
Lynda Grose, a consultant with California-based Sustainable Cotton Project and an associate professor at the California College of the Arts, says people who choose to work with organic cotton play a key role in bringing sustainable fibers into the mainstream.
"When (crafters) buy organic cotton it sends a message to the fabric manufacturer that there is demand for organic cotton and the farmer grows organic fiber to supply the demand," Grose says. "Their fabric decisions directly affect the landscape and growing practices in the cotton fields."
While Finn says green crafting isn't yet mainstream, it's come a long way in a short time. Finn says she's noticed growth in the green crafting niche at her local Farmer's Market/Craft Fair, where she has been selling her creations for three years.
"My first year, I was categorized as Miscellaneous, and every time a person browsed my booth, I had to explain to them that all my creations were made of recycled materials," she says. "Now, at the same craft fair, there are other booths like mine and we have our own category—Recycled Art—and walking into my booth, people generally get my overall theme right away."
For crafters interested in going green, the options are almost endless. Finn uses old T-shirts, scratched vinyl records and upholstery samples she bought at a thrift shop, but there are many eco-friendly materials on the market, such as organic cotton fabrics sold by the yard, and organic and upcycled yarn, string and thread.
Whether they buy green materials or seek out ways to reuse items in order to reduce landfill waste, green crafters are carving out quite a niche for themselves—one that is undoubtedly carved out of salvaged wood.
Photo Credit: Julie Finn