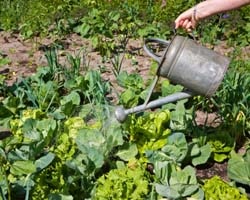 We love hearing from our visitors. Here's a gardening tip from Catherine, one of our readers.
Please send in your comments to: [email protected]
Save Money by Growing Your Own Herbs
Catherine recommends:
I have a tiny but sunny balcony where I grow small pots of the herbs I use most in cooking. The seeds are $0.50 to $1.25 per packet, and a big bag of good organic soil is not too costly. I use (and reuse) clay pots. The (plastic-intensive) bunches of herbs in the grocery store are usually close to $2 each. Basil and parsley liven up almost anything you might want to cook; thyme is gorgeous as it grows; rosemary can be used as an air freshener in addition to its culinary uses.
Here's my advice to beginning herb gardeners: I make sure I have a lot of basil, which serves as a good insecticide for the other pots.
Here's what I do: I dump most of the seeds from one packet in the pot. These are not perennials, so I don't mind that the pot may be overcrowded. My current crop has lasted almost three months, and I have enough herbs to share with friends.
Remember that small pots need to be in the sun and watered every day!