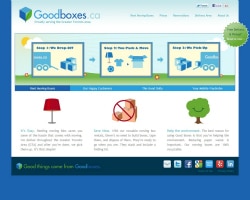 Moving is exciting, sometimes scary, and always stressful—and packing is the worst part of it! You have to buy cardboard boxes or find clean ones. Then there's the seemingly endless taping required to build, reinforce and close all those boxes. This is followed by the hope for sunshine, so those boxes don't turn into a soggy mess. And once everything's unpacked, there's the inevitable mound of cardboard to be recycled. So when we decided to move, I went looking for a better solution. Enter Good Boxes.
Good Boxes is a company based in Toronto, Canada, that rents reusable bins to people who are moving within the Greater Toronto Area. Here's how it works: Good Boxes delivers the bins to your home and then picks them up from your new home two weeks later. It's that simple.
Each bin can hold up to 70 pounds, and bins can be stacked to a total of 700 pounds. The bins all have attached lids that keep your belongings safe and dry—a big bonus if you're moving on a rainy day. And while you need to make sure breakables are well padded (because the bins are hard plastic), there's virtually no chance of crushing a bin full of breakables.
Eco Benefits of Good Boxes
If your plan is generally to find free cardboard boxes at supermarkets and other stores, you may think renting bins is a waste of money, but there are added environmental benefits.
First and foremost, Good Boxes helps reduce overall waste. "We're eliminating cardboard waste from landfills," explains Good Boxes co-founder Richard Yu. "Recycling cardboard itself produces a lot of sludge and other waste." The problem is this: cardboard can only be recycled a handful of times before the fibers degrade to the point where they are just a waste product.
Good Boxes' reusable bins, on the other hand, have a lifespan of about 200 uses—and this was precisely the point of founding the company, Yu says: "We wanted to promote reuse versus recycling."
Then there's all the shipping. Raw lumber is shipped to paper mills, cardboard is shipped to manufacturers to make boxes, and then the boxes are shipped out to stores. Each time cardboard is recycled, it has to be picked up from homes, shipped to recycling plants, and then shipped back to manufacturers to be made into a product once again so it can be shipped to stores yet again.
The bins themselves are also eco-friendly. Made from high-density polyethylene, the bins are recyclable, so even after they hit that 200-uses lifespan, they can be used in a new way for another product.
So What's the Cost?
The service is surprisingly economical when you consider time-savings and convenience. Pricing for a two-week rental is:
$90 + tax for 15 boxes
$120 + tax for 25 boxes
$150 + tax for 35 boxes
$180 + tax for 45 boxes
wardrobe rack: $10/week
Extensions: $30-$75/week
A dolly costs an extra $5, and weekly extensions will cost you $30 to $60, depending on the number of boxes you're renting.
The boxes come with a two-week rental period. If you're very organized and want to pack early, it's worth extending the contract by a week or two as two weeks may not be enough. The best part about the short time frame is that if have unpacked boxes from your last move stacked in the garage, basement, attic or other space, it is a fantastic motivator to unpack everything right away.
I'll be watching to see if they franchise (Yu says it's under consideration) so that this eco-friendly moving service is available throughout North America. And thank you, Good Boxes, for helping me make my move a little greener. For more information, visit www.goodboxes.ca
Editor's Note: Good Boxes is offering Naturally Savvy readers a 10% discount on orders! Just enter the coupon code "naturallysavvy" on your reservation page or visit this link.