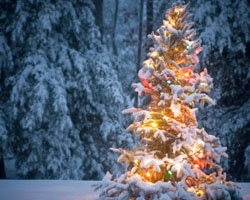 For many parents, it can be hard to avoid buying into the shopping frenzy that comes with the holiday season.
Between the little ones who get excited for brightly-wrapped presents under the tree, the family we don't see often enough and the traveling we often need to do to get to them, it's easy to lose sight of what the holidays should really be about.
One way to teach our children the value of giving during the holiday season is to develop rituals within your family that celebrate the good tidings for all — including the planet.
Here are three ways you can change your holiday routines into meaningful rituals and new lasting traditions.
Hosting Holiday Gifting Parties
Find a local charity or green-based non-profit organization for which you can collect gifts and donations and ask each of your party guests to bring an offering that will go directly to the charity you've chosen. You can collect financial gifts, canned food, clothing or toys for underprivileged kids. Alternatively, you can find a family in need and help to purchase some of the items on their Christmas wish list.
Make Homespun Gifts
Spend quality time with your little ones and bring the family together to make some homemade gifts, which can also help you save on money and unnecessary store bought packaging. Try making a special batch of holiday cookies or have a decorating party where you paint cookies with icing. You can also try creating other seasonal treats such as cakes, brandies and granola. Wrap these gifts with recycled material, including fabric, newsprint, beads, ribbon.
Honor A Tree
Who says you need a Christmas tree to get into the holiday spirit? If you're not keen on chopping down a tree for the holidays, perhaps you can pack up some gifts on Christmas morning and visit a tree nearby. Lay a blanket down for family members to sit, and open a few gifts under a living tree outdoors. Celebrate what you're thankful for mother nature and save a tree while you're doing so. You can even bring a couple of ornaments to hang on the tree if you like, just don't forget to bring them home.
This holiday season, spread the love and joy by setting in motion new rituals and traditions that will make this and subsequent seasons bright, cheery and green…
Full Article