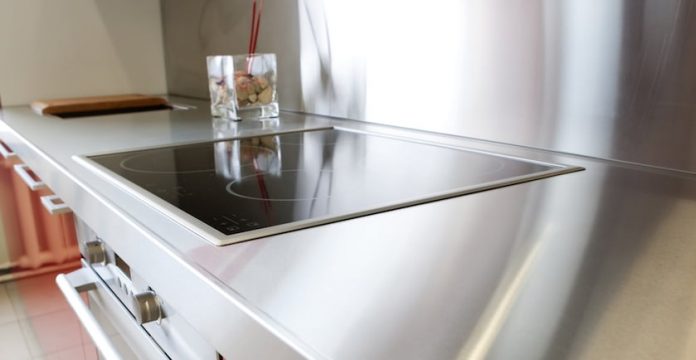 Remodeling a kitchen is on many homeowners' to-do lists, and putting in new countertops is often the biggest part of that remodel. For most of this century, granite has been the go-to material when redoing countertops, and while it is still a great option, the growing interest in sustainability and green living has meant many people are looking at alternative materials. This has prompted a surge in options with stronger eco-credentials, such as wood, metal and recycled countertops.
Deciding whether a material is environmentally friendly or "green" is not as easy as just looking at a label or finding out if the manufacturer is certified by one eco-working group or another. It takes a fair amount of research and consideration to determine if a product is green and in some cases to decide which is "greener." This is because there isn't a one-size-fits-all rule you can apply. There are actually six key considerations, and it's rare that one material will check off all six boxes and be in your price range and suit your taste and decor.
Read more about green cleaning recipes
6 Key Green Criteria for Countertops
1. Material. Is it made from a renewable resource? If so, is the process of mining or harvesting detrimental to the environment? If not, is it a recycled material?
2. Manufacturing. Does the process of turning the material into your countertop consume a lot of energy, or is it low-impact? Some forward-thinking manufacturers strive to be zero-waste and carbon-neutral in their manufacturing processes.
3. Transportation. Does the material need to be shipped long distances to your home, thereby adding to air pollution? Or is it located within a 500-mile radius?
4. Installation and maintenance. Will chemical-heavy installation materials such as glues, stains and sealants be needed to make the product durable enough? If so, are low- or no-Volatile Organic Compound (VOC) options available? Will the material need to be resealed and how often? What type of cleaner is required for optimal maintenance?
5. Longevity. A material that has a heavy carbon footprint in its manufacturing but lasts three times as long as one that uses less resources is a greener choice in the long run.
6. Recyclability. Can the material be recycled/reused? Is it biodegradable or will it go straight into the landfill?
Here's a look at some of the "greener" options in countertops today:
Bamboo
A rapidly renewable resource thanks to its fast-growing nature, bamboo is a strong, attractive countertop alternative. Its major drawbacks include its susceptibility to stains and nicks, and because it is mostly grown in China, the cost of transportation is high.
Concrete
Sourced locally or poured in place to avoid high transportation costs for the planet, concrete is a highly customizable and nearly indestructible material. Making cement does create significant gas emissions, but industrial waste by-products such as fly ash and slag cement can be mixed in with new cement to cut down on those.
Tile
A great option for a do-it-yourselfers is ceramic tile, which is a long-lasting and durable countertop material. While the grout will be a weak spot, when well-cared for it can last for generations. Ceramic tile requires a very energy-intensive manufacturing process, and due to the weight are another product you should try to source locally. Purchasing tile made from recycled ceramics also boosts the eco-value. Glass tile is another good option, especially when made from 100 percent recycled materials, as the process is much less energy intensive than making new glass.
Stainless Steel and Copper While its core components need to be mined, the majority of stainless steel is made of up to 100 percent recycled material. Stainless steel is tricky to keep clean, however, but if off-gassing and VOCs are a concern for you, it is one of the few materials that can be installed and maintained with absolutely no resins, glues or other chemicals. Copper is another metal that makes for beautiful countertops and has similar green attributes. It also brings a lovely rustic vintage look to a kitchen, compared to stainless steel's stark, modern aesthetic, and is easy to keep clean with just ordinary dish soap.
Wood
Wood is a beautiful option for any part of your home, and countertops are no different. While it will require more care and attention than traditional laminate or stone countertops, it is a very green option if sourced from sustainable, local forests. The only caveat is that it will require a sealant or laminate, so be sure to opt for low-VOC products and formaldehyde-free laminate.
Recycled Countertops Composite countertops made from post-consumer recycled paper, wood pulp and similar products have high eco-credentials and the finished product resembles a soft stone that is really quite beautiful. There are a few different manufacturers of this type of product and each has different attributes, so opt for those made with petroleum-free glues and resins.
Read more about common household items that contain harmful chemicals
Of course the greenest option of them all would be to salvage a material, such as wood or copper, and fashion it into an imperfectly beautiful countertop. Unless you're lucky enough to have a decaying barn in your backyard that you can ransack, you will most likely have to buy salvaged materials. Copper can oftentimes be salvaged from scrapyards, however, making it an increasingly popular option.
Check out this infographic from The Daily Meal and Home Depot for more kitchen countertop remodeling inspiration. The easiest way to be green when remodeling your kitchen is to be informed and ask the right questions of the manufacturer or installer. Or, if you are doing it yourself, research companies online, read reviews and ask for samples to be sure you are making the right choice for both your home and the planet.
Written By Jennifer Tuohy. Jennifer writes about sustainable materials and DIY projects. She provides great information about kitchen products that keep your home green. To see more eco-friendly countertop options, visit The Home Depot.