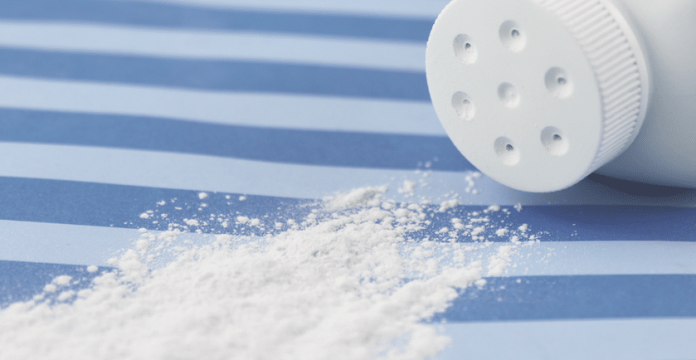 A Los Angeles jury awarded a woman $417 million in a lawsuit against Johnson & Johnson over the claim that the talc in its baby powder is linked to ovarian cancer.
Read about the dangers of conventional feminine hygiene products
Eva Echeverria used Johnson & Johnson's baby powder for feminine hygeine daily from the 1950s to 2016. In 2007, she was diagnosed with ovarian cancer. In her lawsuit she claimed that she developed ovarian cancer as a "proximate result of the unreasonably dangerous and defective nature of talcum powder."
Echeverria had to videotape her deposition for the trial, as she is still too sick, The New York Times reports. "She knows she's going to die," said her lawyer Mark Robinson. "She's doing this for other women. She wants to do something good before she leaves."
Johnson and Johnson will appeal the verdict, the company said in a statement. "We are guided by the science, which supports the safety of Johnson's Baby Powder," said spokeswoman Carol Goodrich. "We are preparing for additional trials in the U.S. and we will continue to defend the safety of Johnson's Baby Powder."
Over 4,800 talcum powder lawsuits have been filed against Johnson and Johnson for its failure to warn women of risks of ovarian cancer associated with using its baby powder for feminine hygiene. The primary complaint in the lawsuits, according to Consumer Safety, "is that Johnson & Johnson failed to warn customers about the dangers of its products, despite knowing about such dangers."
Studies link talcum powder use with ovarian cancer
Studies have long linked the use of talcum powder with increasing the risk of developing ovarian cancer. A 1971 study by Welsh researchers found a possible association between women using talcum powder on their genitals and ovarian cancer. They examined the tissue from patients with ovarian and cervical tumors and found talc particles "deeply embedded within the tumour tissue."
Dr. Daniel Cramer, a Harvard epidemiologist and head of the Obstetrics and Gynecology Epidemiology Center at Brigham and Women's Hospital in Boston, has long studied the link between ovarian cancer and talcum powder. In a 1982 study, Cramer and his colleagues studied 215 women who had cancer. They found that 42.8 percent of the women had regularly used talcum powder either on their genitals or on sanitary pads. A 2016 study he participated in found that ovarian cancer was one-third higher among women who regularly used talcum powder on their genitals.
Read about a previous Johnson & Johnson lawsuit
Other studies have found an association between talcum powder and ovarian cancer:
? A 2013 analysis by the Ovarian Cancer Association Consortium found that talcum powder used on genitals is associated with a 24 percent increased risk of ovarian cancer.
? A 2016 study of African American women found that using talcum powder on genitals was associated with a 44 percent increased risk of ovarian cancer.
? A 2017 study by researchers at the Tisch Cancer Institute of Mount Sinai Hospital in Manhattan, New York analyzed 24 studies and statistical analyses on over 300,000 women with ovarian cancer. They found a "weak but statistically significant association between genital use of talc and ovarian cancer."
Many baby powders, including Johnson & Johnson's, still contain talc. Given the current studies, it's best to look for talc-free options that use ingredients like cornstarch and arrowroot powder for yourself and your family. Companies like Burt's Bees, The Honest Company, and Nature's Baby all offer talc-free alternatives.