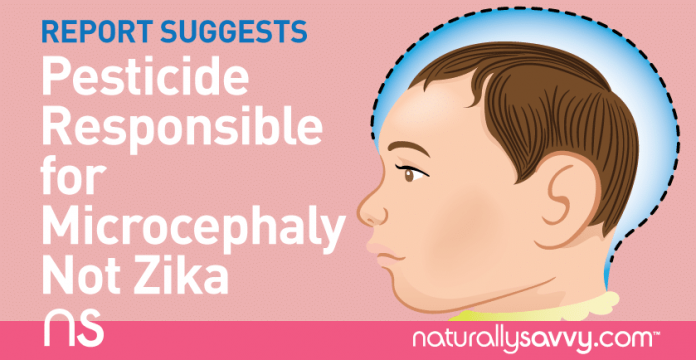 A newly released Argentinian report states that the outbreak of Microcephaly, a rare neurological
disorder that causes newborns to develop abnormally small skulls and brains, is likely linked to the pesticide pyriproxyfen rather than the spread of the Zika virus.
Pyriproxyfen is a larvicide added to drinking water that is used to target the Zika-spreading mosquito. It is produced by Sumitomo
Chemical, a company associated with Monsanto.
"In the area where most sick persons live, a chemical larvicide
producing malformations in mosquitoes has been applied for 18 months, and that
this poison (pyroproxifen) is applied by the State on drinking water used by
the affected population," states the report, published
by Argentinian group Physicians in Crop-Sprayed Towns (PCST) .
Read about the link between Zika and STDs
In Brazil where pyriproxyfen is being used, cases of microcephaly have proliferated. Although in Colombia, where the it has the second highest incidence of the Zika virus after Brazil, the infections have not been linked to microcephaly.
One Brazilian
state has suspended use of pyriproxyfen until further notice, based on the findings in the report.
"We decided to suspend the use of the
product in drinking water until we have a position from the Ministry of Health,
and so, we reinforce further still the appeal to the population to eliminate
any possible mosquito breeding site," Joao Gabbardo dos Reis, State Health
Secretary in Rio Grande do Sul.
The Brazilian government has released a statement dismissing the fears, saying there have been no
scientific studies that have proven the link between pyriproxyfen and microcephaly.
"Unlike the relationship between the Zika virus and microcephaly, which
has had its confirmation shown in tests that indicated the presence of the
virus in samples of blood, tissue and amniotic fluid, the association between
the use of pyriproxyfen and microcephaly has no scientific basis," the
statement said.
Read more hereSources:
The Daily Telegraph: Zika virus: Brazil dismisses link between larvicide and microcephalyScienceAlert.com Argentinian Report Says Monsanto-Linked Pesticide is to Blame for Microcephaly Outbreak-Not Zika
sumitomo-chem.co News Release