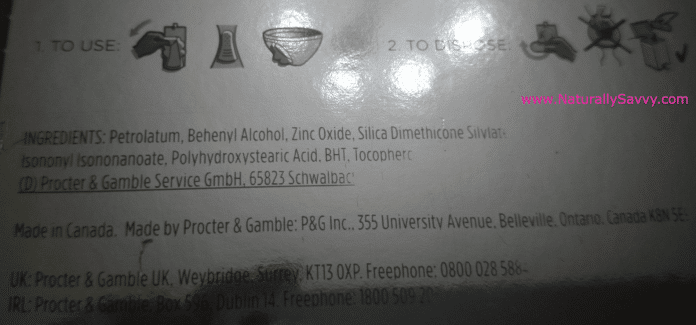 My team and I have been working hard since last spring to bring awareness to the chemicals found in feminine hygiene products. We started with the release of our e-book, Label Lessons, Your Guide to a Healthy Shopping Cart last May, followed by our exposé on conventional feminine hygiene products and the viral video Pads on Fire where we set Always Infinity pads and Natracare 100% organic cotton pads on fire (above). Our campaign partner, Women's Voices for the Earth, released their comprehensive report, Chem Fatale last fall where they disclosed a slew of harmful ingredients found in many types of feminine hygiene products including tampons, pads, douches, wipes, and more. They also recently released a hysterical video called Detox the Box that is a must see!
Because the FDA does not require companies to list the ingredients of their tampons and pads in the U.S. or Canada, we started a petition asking Procter & Gamble to fully disclose the ingredients of their Always Infinity pads. To date, we have amassed close to 20,000 signatures from people like you, who believe we have the right to know what the ingredients are in the feminine hygiene products we use on a daily and/or monthly basis.
So why am I so angry?
Thanks to one of our amazing Facebook fans (thank you Stephanie), I recently learned that the ingredients of P&G's Always Infinity pads are listed on the package in Ireland! Yup, you read that right. Once again, things are different in Europe. Below is a list of ingredients from an Always Infinity box overseas, although it is not the full list because they left out the – albeit vague – ingredients P&G gave us over the
phone when doing our research for
our Label Lessons e-book (read the ingredient list here). In addition, according to Alexandra Scranton, Director of Science and Research for Women's Voices for the Earth and author of the report Chem Fatale, the actual pad components (like wood pulp, polyethylene plastic, etc.) are not included on the list either. Below is a picture of the actual package: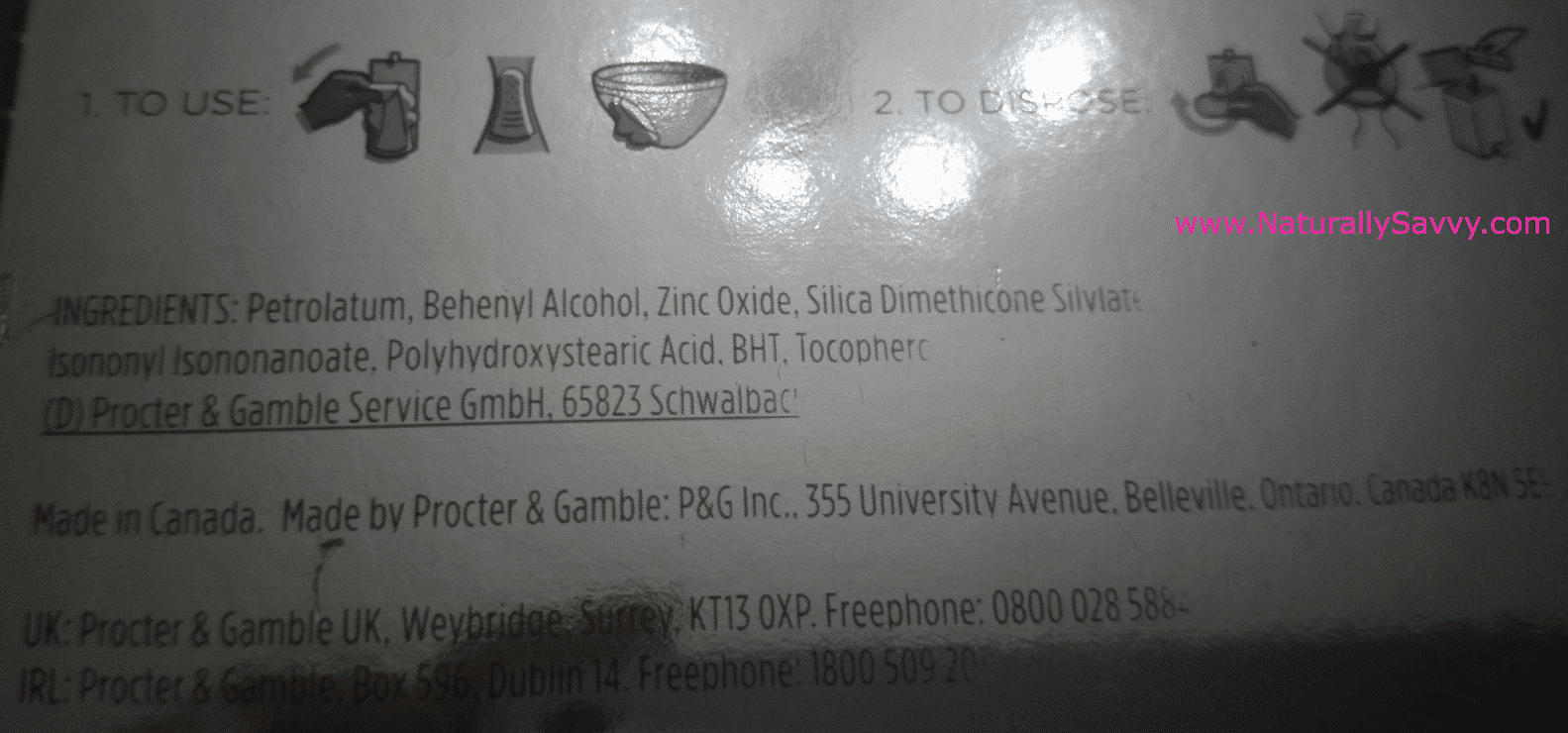 Ingredients: Petrolatum, behenyl alcohol, zinc oxide, silica dimethicone silylate, isononyl isononanoate, polyhydroxystearic acid, BHT, tocopherols.
According to EWG's Skin Deep Database, petrolatum scores a 4 due to contamination concerns, and BHT scores a 6 because it is a known allergen, potential carcinogen, and potential developmental toxicant. Several other ingredients – like behenyl alcohol, silica dimethicone silylate, isononyl isononanoate, and polyhydroxystearic acid – either have limited information, or no information on safety available.
The most ironic part about the package above is that this box of Always Infinity pads from Ireland states that they are made in Canada! It's interesting that they are manufactured in Canada, but Canada does not list the ingredients either (we checked both the Canadian and U.S. packaging and neither of them list any ingredients on the box of Always Infinity pads).
According to Alexandra, "the ingredients listed on the package in Ireland are of a lotion that is incorporated into the top sheet of certain Always pads. In researching this more thoroughly, I came across the P&G patent which explains how their invention was to develop a menstrual pad with lotion that would reduce any irritation caused by the wearing these pads. Therefore, we are assuming the ingredients above are those found in the lotion, and not the pad itself (perhaps because the lotion is considered to be a "cosmetic" item). It is unclear from P&G's U.S. website if any of the Always pads sold in this country contain this lotion. If they don't sell any lotion-pads here, then there wouldn't be a need to disclose these chemicals. However, if they do sell them, then it would be interesting to find out why they aren't disclosing the lotion's ingredients."
Makes you wonder.
In our viral Pads on Fire video, which has already received close to 44,000 views, we mentioned how Carolyn Maloney, Congressowoman of New York's 12th congressional district, introduced a bill called the "Robin Danielson Act" five times in Congress between 1999 and 2011. The purpose of the bill was to require the National Institutes of Health (NIH) to research any health risks posed by chemicals found in feminine hygiene products (like chlorine, dioxins, and fragrances). Unfortunately the bill was rejected all five times.
But things are about to change…
I am thrilled to announce that due to my continued persistence, our e-book and viral video, as well as Women's Voices for the Earth's thorough research report, Carolyn Maloney's office has decided to re-introduce this bill for a sixth time! Their press release is below.
We can make this happen! We need your to help more than ever to support Representative Maloney in getting this bill signed into law. Please tell your representative that you support more research into harmful chemicals in feminine hygiene products! You can show your support and tell your representative how you feel here. Please ask anyone you love and care about to sign it. The health of women everywhere depends on it.
Please share our petition with everyone you know. With your help, I am optimistic this bill will pass this time around. Things are changing – one ingredient at a time!
For Immediate Release

May 28, 2014

Contact: Mike Morosi 202-225-7944

Maloney bill would study health effects of menstrual hygiene products

WASHINGTON – Congresswoman Carolyn B. Maloney (D-NY) today introduced an updated version of her legislation to study the health effects of menstrual hygiene products. The Robin Danielson Act of 2014 would require the National Institutes of Health (NIH) to research whether menstrual hygiene products that contain dioxin, synthetic fibers, and other chemical additives like chlorine and fragrances, pose health risks.

The bill also encourages the FDA to monitor and publicly disclose the presence of a broad list of contaminants within the wide range of menstrual hygiene products. The FDA already monitors dioxin levels in raw materials and finished tampons, but does not presently do so for pads, liners, cups, sponges and similar products used by millions of American women.

"American women spend over $2 billion per year on menstrual hygiene products," said Maloney. "While the Food and Drug Administration requires tampon manufacturers to monitor dioxin levels, this information is not readily available to the public. We also need more information on the presence of chemical contaminants in other menstrual hygiene products. The Robin Danielson Act would invest in new research to help women better understand the risks associated with hygiene products so that they can make informed decisions about their health."

Andrea Donsky, an expert on women's health and founder of the group NaturallySavvy, reiterated the importance of additional research when she said, "We need proper testing to determine whether or not toxic chemicals are responsible for, or directly linked to, female health issues like breast, ovarian and uterine cancers. Once proper testing is implemented and conducted, the facts will speak for themselves."

"A number of different chemicals of concern may be found in feminine care products, but there simply has not been sufficient research to determine the effects of these chemicals on one of the most sensitive and absorptive areas of a woman's body," said Alexandra Scranton, Director of Science and Research for Women's Voices for the Earth and author of the report Chem Fatale. "Given the universal use of these products by women over their lifetimes, it is imperative that we learn more to better protect women's health."

"Internally worn products, such as tampons and cups, are worn in the most absorbent part of the body, off and on for literally decades, yet, there is a paucity of independent research that addresses the potential risks associated with these and other menstrual products," said Chris Bobel, Society for Menstrual Cycle Research President-elect and author of New Blood: Third Wave Feminism and the Politics of Menstruation. "This gap in knowledge potentially puts consumers at risk. Women deserve up- to- date and accessible safety information about their menstrual care, without it, they cannot make informed choices about how to best care for their bodies."

The legislation is endorsed by The Society for Menstrual Research, National Latina Institute for Reproductive Health, Teens Turning Green, Search for the Cause, Annie Appleseed Project, Empire State Consumer Project, Breast Cancer Fund, WE ACT for Environmental Justice, Physicians for Social Responsibility, Colorado Organization for Latina Opportunity and Reproductive Rights (COLOR), and Alaska Community Action on Toxics.

Congresswoman Maloney first introduced legislation related to tampon safety in the 105th Congress with the Tampon Safety and Research Act of 1997. In 1999, Congresswoman Maloney introduced the Robin Danielson Act. Subsequent versions of the bill were introduced in 2003, 2005, 2008, and 2011.