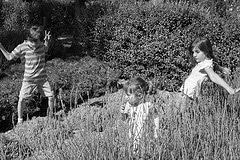 A fall garden gives you and your family a reason to enjoy every last drop of the weather before winter sets in. If your child doesn't like gardening, however, there are many ways to make the process kid-friendly and interesting for your less-than-interested child.
Use these simple ideas to get your child excited about helping with the fall garden, whether they're learning about the foods they need to grow strong or making fun trinkets to decorate and make it their own.
Prepare the Garden with Family DIY Projects
Make your garden family friendly with a few simple family DIY projects. These little decorative trinkets will make the space feel magical and special. Make and Takes shares some fun family crafts you can make together:
Ladybug painted rocks
Bottlecap flowers
DIY seed bombs
Fairy garden flower pots
Garden wind chimes
These particular ideas aren't necessary for the success of the garden, but it's a chance for your child to get creative and develop a personal connection with the space. They'll love the magic of hearing their wind chime singing as they fall asleep at night or visiting their fairy garden flower pots when playing in the yard.
Learn more about Organic Gardening
Choose Crops for Your Growing Kid
All fresh produce is great for your child. Some foods, however, are packed with specific nutrients your growing kid needs most, including calcium, fiber and vitamin A, according to the guide, 5 Everyday Foods That Help Kids Grow Strong. Luckily, there are many fall crops packed with these nutrients that you can bring into your garden, including:
Carrots
Cabbage
Broccoli
Broccolini
Acorn squash
Kale
When planting, hands in the dirt and all, discuss the reasons why these vegetables are so important to your growing child. For example, calcium from the kale and cabbage, "is critical at a young age, helping kids develop stronger bones," suggests the same guide. This makes family gardening both a time for bonding and learning together as a family. Bonus: your child is able to get more of the nutrients he or she needs to grow strong and fuel their curious brain.
Read more about 10 Educational Lessons You Can Teach Kids in the Kitchen
Create Places to Discover
This fun idea is meant to pique your child's natural sense of curiosity and it's possible with gardens of all sizes. "Even in a relatively narrow side yard, there's an opportunity to conceal areas of the garden from view and create an enticing destination. Kids love hidden nooks-like a pathway curving around a corner or a clearing under a canopy tree-and these make a garden more interesting from a design perspective," according to 12 Ways to Make Your Garden Kid-Friendly.
Take it a step further and make this secret space the outdoor reading nook, with a hanging swing, bench or seating area. This encourages your child to do two important things: read more often and spend more time outside. Bring your little gardener in on this project too so they can design their own secret space, from choosing rocks for the walkway to picking out a bench or seating option.
Use All Natural or DIY Pesticides
You'll deal with critters and insects eating your plants at one point or another. Instead of grabbing a bottle of insecticide at the store, which is likely filled with chemicals, make your own at home. Commercial insecticide is also not always necessary, explains Derek Markham of Treehugger:
"Not all insects are harmful, so applying insecticides indiscriminately, especially harsh pesticides that affect even the beneficial insects, can have a detrimental effect on your local garden ecosystem,"
Luckily, there are dozens of solutions you can make at home with your kids that are safe and derived from common household products. Angie's List recommends a few basic options:
Mix 5 tbsp. of dish soap with 4 cups of water. Put it in a bottle to spray plants as needed. Why does this work? "The soap will dehydrate aphids and spider mites."
Make your insecticide from dried chrysanthemum flowers. Mix the powder with water and dish soap, which then works as a spray. This paralyzes flying insects on contact.
Garlic's strong smell keeps the bugs away. This is best for house plants; just stick a clove of garlic into the soil to keep bugs away.
Essential oils, including sage, thyme, basil, rosemary, mint, rue and lavender, all repel a variety of insects. Use these to create a spray. Take crushed leaves or trimmings of the plant you choose, soak in a bucket of water overnight and strain. Conversely, you can also dilute store-bought essential oil with water. Better yet, just plant these various herbs and plants right in the garden.
Give Kids Their Own Projects
The DIY projects from earlier are fun, but not functional. Give your child their own responsibilities with the garden, like making name sticks for plants or watering the garden every Saturday and Sunday.
The same Kid-Friendly Garden resource suggests, "Kids will feel as if they've had a hand in the garden and will learn valuable gardening skills along the way, such as the names of plants and how much water they need to thrive."
When it comes time to harvest your plants, they'll feel a sense of pride knowing they helped turn those seeds into food on the dinner table.
Make Your Fall Garden Family-Friendly
These simple ideas can be used to involve every child in the gardening process. Make the most of the fall season by spending plenty of family time in that thriving space, whether you're reading and hanging out in the secret nook or simply taking care of the plants as they grow.
Author Bio: Jessica Thiefels has been writing for more than ten years and is a former editor for Active Outdoors. She's also written for sites like FamilyEducation and PBS.org, sharing tips to help families spend more time outside and live a healthier life. Follow her on Twitter @JThiefels or connect on LinkedIn.