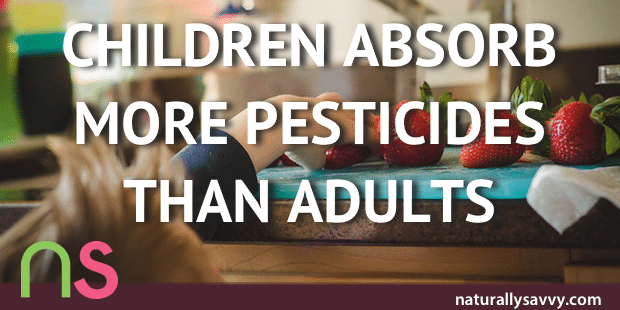 Why buy organic foods? Well, the environment is one reason, considering that pesticide run-off in lakes, streams, and rivers pollute ground water and soil. They can also create dead zones, killing off biodiversity. And beyond the environment, pesticides are also problematic to human health because pesticide residue found on conventional foods creates a toxic environment in our bodies. Just how much pesticide residue gets into our bodies has long been controversial, but new research shows how much our diet contributes to this toxic build up, especially in children.
Read about how even organic honey contains toxic glyphosate
A Swedish experiment conducted by the Environmental Research Institute IVL and the Swedish grocery chain Coop found that children absorb more pesticides than adults from food. In the two-week experiment, the pesticide level of a family of five who switched from conventional to organic food was followed.
Urine samples of all the family members were collected at the start of the experiment to look at the amount of food pesticides found in their bodies. Researchers found that the levels in the children were much higher than in their parents. But by the end of the experiment the family members had zero pesticides in their bodies.
"The same exposure to chemicals results in higher concentrations of chemical residues in the bodies of children than in adults," Dr. Jörgen Magnér, environmental researcher and analyst at IVL was quoted as saying in the study's findings, according to The Malaysian Insider. "Probably because children have higher food intake relative to their body weight," he said.
It makes the decision about whether or not to choose organic all the more simple. Not to mention that organic foods are also free of GMOs. If you're worried about the cost of organic foods for your family, you can reduce the cost by taking a few simple steps. First of all, plan your meals for the week at the top of your grocery list and then include the ingredients for the meals in your list. Never go to the grocery store without a list. Additionally, choose local and seasonal produce that's less expensive and cut back on more costly processed foods.
Read more about organic eating on a budget
Image via Kelly Sikkema