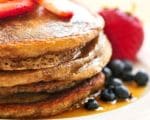 Buck-wheat is gluten-free, and pancakes can make just about anyone smile on a Sunday morning. Enjoy with organic blueberries, strawberries and fresh maple syrup.
Ingredients:
1 1/2 cups soy, rice or almond milk
2 tablespoons unsweetened applesauce
2 eggs (with or without yolks)
3 tablespoons honey or maple syrup
1 cup buckwheat flour
1 teaspoon non-aluminum baking powder
1/2 teaspoon sea salt
maple syrup
Steps/Methods:
Combine milk, eggs, applesauce, and honey. Beat well. **If using only whites without the yolks, increase the number of whites to 4 total.
Mix in the dry ingredients. Stir until blended (don't over-mix).
Heat a griddle over medium heat. Wipe the pan with some butter or olive oil. Pour 1 ladle-full of batter onto griddle and cook until bubbles form on top, then flip over and cook other side.
Serve with maple syrup.