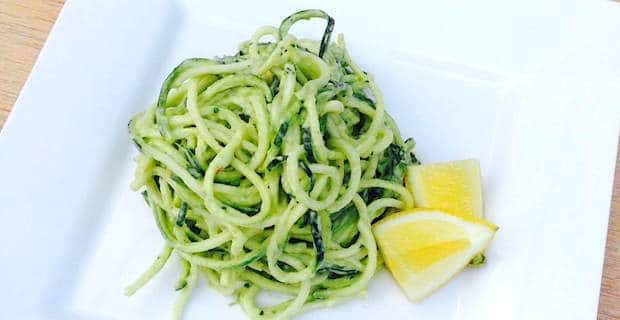 This simple recipe for creamy zucchini noodles, or "zoodles," is a perfect side dish or an easy weeknight meal. No cooking makes it the ideal dish for lazy and hot summer nights (I promise they're coming). The creamy avocado adds amazing skin loving fats and vitamin E, while the raw zucchini adds amazing crunch, fiber and energy promoting B-vitamins. You can sprinkle with hemp seeds for added protein to make this perfect for Meatless Monday.
Ingredients:
4 zucchini (or about one per person)
1 ripe avocado
2 tbsp Ellyndale Organic Extra Virgin Olive Oil
juice of ½ lemon (or more)
¼ – ½ tsp chili flakes
¼ cup fresh cilantro, chopped
salt and pepper to taste
¼ cup goat cheese* [To make a vegan 'cheese' you can use ¼ cup raw cashews (soaked for 4 hours) and 2 tbsp chives. This will mimic the goat cheese.]
2 tbsp chives
Read more about reasons to give Meatless Monday a try
Directions:
Using a spiralizer, turn your zucchini into spaghetti noodles. (If you don't have a spiralizer, just use a vegetable peeler to make linguine-style noodles.) In a food processor combine avocado, olive oil, lemon juice, chili flakes, salt, pepper, goat cheese (or cashews), and cilantro. Pulse to purée until everything is combined and creamy. Toss zucchini with the cream sauce to combine and serve.
Image: Deanna Harris