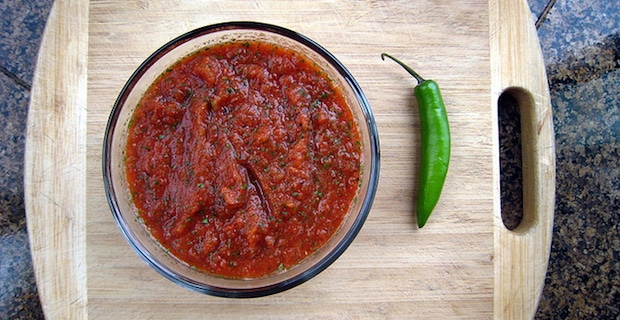 This quick and easy salsa recipe incorporates omega-3 rich flax oil into the classic party dish. Not only will you feel great about whipping up this fresh dip from scratch, you'll feel even better from the health boost provided by flax oil.
Ingredients:
3 tomatoes, diced
4 sprigs fresh cilantro
½ medium onion, diced
1 scallion, chopped
1 small jalapeno pepper
½ cup tomato sauce
3 tbsp Barlean's Organic Flax Oil
Read more about the health benefits of flax
Directions:
Combine the tomatoes, cilantro, onion, scallion, and jalapeno pepper in a blender or food processor and process to desired consistency, chunky or saucy. In a separate bowl, combine the tomato sauce and flax oil. Stir to a uniform consistency. Mix everything together and chill until ready to serve. Makes 2 cups
Recipe courtesy of Barlean's.
Image via Daniel Rossi