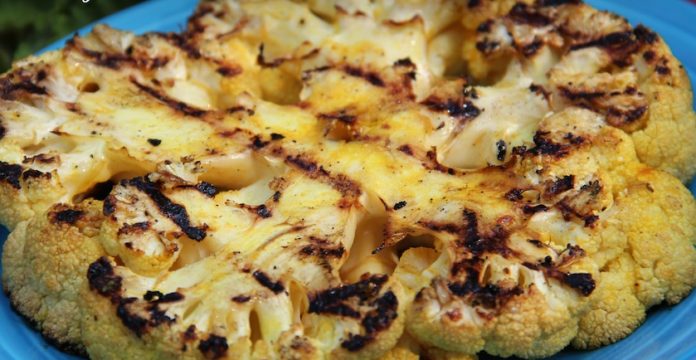 If mixing extra virgin olive oil with fresh orange juice and grilling over a hot BBQ qualifies as a recipe, then this one is a winner! Delicious and so easy to make, try adding a little crunch to your next grilling session.
Read more about the health benefits of cauliflower
Ingredients
1 large cauliflower, rinsed
Juice of 1 medium orange or 1 cup of Uncle Matt's Organic Orange Juice
2 Tbsp extra virgin olive oil
1/8 tsp salt
fresh ground pepper
Directions
Place the cauliflower "standing up" and slice into ½ inch "slabs". Stir all the remaining ingredients in a cup and pour over sliced cauliflower. Prepare your gas grill for direct cooking over high heat (450-550ºF). Place the coated cauliflower steaks on top of the grill and close the lid. Set the timer to 5 minutes. When the timer goes off, turn the cauliflower over using a long-handled grill metal spatula and close the lid again. Set the timer for an additional 5 minutes. When the timer goes off, remove from the grill and serve.
This recipe originally appeared on Cuisinicity.com.