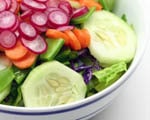 The apple in this salad adds a sweetness to this recipe. The walnuts add a crunch and provide healthy fats for the brain and nervous system.
Ingredients:
1 small daikon radish
1 small celery root
1 medium jicama
1 small bunch red radishes
1 granny smith apple
cup chopped walnuts, toasted
Chives
2 tbsp. fresh lemon juice
cup plain (natural) yogurt*
cup sour cream*
Sea salt and pepper
Steps/Methods:
Peel and thinly slice all vegetables and the apple (use a mandolin if you have one). Place in a large bowl. Whisk the lemon juice, yogurt and sour cream. Pour dressing over vegetable mixture and toss gently to coat. Garnish with walnuts and chives.
Additional Tips:
1 small daikon radish
1 small celery root
1 medium jicama
1 small bunch red radishes
1 granny smith apple
cup chopped walnuts, toasted
Chives
2 tbsp. fresh lemon juice
cup plain (natural) yogurt*
cup sour cream*
Sea salt and pepper