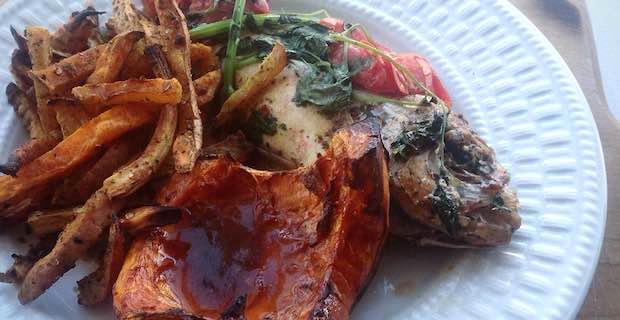 Fish is a great way to get lean protein with a light palate that compliments the warmer weather. It is also rich in a mineral called selenium, which protects the cells from damage and has been used in some cancer therapies. High in oil-soluble vitamins such as vitamin A needed for vision, healthy immune system and healthy cell growth, it is also a great source of potassium, an electrolyte mineral used to regulate blood pressure and cell uptake of nutrients, and omega-3s – the healthy fat often lacking in our typical Western diets.
Pair this fish with a delicious medley of root vegetable fries and you have a delicious, balanced summer meal that will takes less than an hour to make.
Read more about the health benefits of root vegetables
Whole Red Snapper Ingredients
2 whole gutted Red Snappers
1 tomato
2 tbsp oregano (dried or fresh and minced)
1 tbsp sea salt
handful of cilantro
Directions
Rinse fish place in baking pan (ceramic works best) on top of a large sheet of parchment paper. Rub sea salt and oregano and sprinkle some of the mixture inside the fish. Place tomato and cilantro on top fish. Lemon and dill will also work well. Wrap up fish in parchment paper firmly and place lid on pan. If you have a convection oven, use it and bring it up to maximum temperature (usually 230ºC) or 430ºF in oven. Should take 45 minutes to an hour. Fish flesh should flake off with fork when tested.
Root Vegetable Fries Ingredients
1 sweet potato
2 yellow beets
1 large parsnip
3 tbsp Barlean's coconut oil
2 garlic cloves minced
1 tbsp oregano (dry of fresh and minced)
1 tsp sea salt
Directions
Cut root vegetables into even, thin fry shapes. Warm up coconut oil add in garlic, sea salt and oregano. Pour mixture over fries and toss thoroughly. Spread evenly parchment lined baking sheet. Bake in convection oven at 230ºC or in regular oven at 430ºF for half an hour. Fries should be soft all the way through and begin to become crispy on the outside. Leave in longer to crisp, using the broil for a few minutes may help.
Chef's Note: Suggested sides for this plate include coleslaw or a baked butternut squash with butter and raw brown sugar dusting (pictured). 
Image: Louise Van Blyderveen