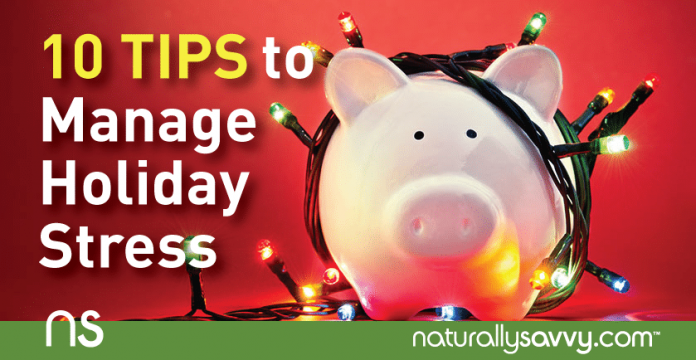 The holiday season is upon us. Decorating, family gatherings, shopping for gifts, traveling, cooking, and baking are in full force. It's the most wonderful time of the year, but it's also the most stressful time of the year. Many of us feel happy during the holidays, but trying to keep up with work and personal life can make us feel stressed and fatigued.
Here are 10 ways to easily manage holiday stress so you thrive this holiday season:
1. Breathe: When you find that your mind is racing and you're on go, go, go mode, take a breather. Focus on your breath. If it's hard to concentrate on, imagine a calming color when you breathe in and a toxic color when you breathe out. A great time to do this is when you're stopped at a red light. Turn off the radio, focus on the light, and breathe until the light turns green.
2. Go to sleep early: This may seem difficult with so much going on, but going to sleep early just one night of the week will do wonders for your energy and your mind. Forget the dishes; go to bed and do them in the morning.
3. Holiday cards: Do they stress you out? If you run out of time to mail your holiday cards this year, why not surprise your family and friends by sending them one for Valentine's Day or St. Patrick's Day? There is no rule that says you have to send them out in December. It will be one less thing you have to get done before the holiday.
4. Exercise: Do movement that you love. If you're enjoying your exercise, then you'll most likely stick to it now, when you really need it for stress management. Find an activity to clear your head and energize your body, even if it's just for 10 minutes. Make an appointment with a personal trainer, go outside and walk in the sunshine, or dance around the house to your favorite holiday music.
5. Personal time: Treat yourself to regular daily quiet time. Have a cup of your favorite tea and sit by the window. Dab lavender oil or lotion on your wrists or temples, breathe in, and relax your muscles. Take a warm bath after everyone has gone to bed and soak in some candlelight. Read your favorite book.
Read more about planning 'me time' to reduce stress
6. Delegate your to-do list: You don't have to do it all on your own. Hire a cleaning service to clean your house. Give everyone in your household a holiday job. Ask others to help you with gift ideas for hard-to-buy-for family members.
7. Shop for gifts the easy way: Instead of going to the stores to shop, why not shop online this year? It not only saves you gas, but it also saves time. Almost every online store has special sales or merchandise just for online shoppers.
8. Pamper yourself: Schedule a massage or a favorite "me time" activity for the day after your holiday festivities or the day after your relatives leave. Just knowing that this appointment is waiting for you will definitely lift some of your shoulder tension.
9. Holiday eats: This is the time of year when sugar-based dishes are served more than ever. Check in on how much sugar you've eaten. Food is everything. Food creates your thoughts, moods, feelings, energy, and stress levels. Try adding in foods that decrease stress-like whole grains, vegetables, dark leafy greens, beans, fish, and nuts.
Read more tips for eating healthy at holiday meals
10. Have fun: No matter how your holiday season goes, remember to laugh, have fun, catch up, and be grateful for everyone who has touched your life. When you have an attitude of gratitude, your body and mind will leave you feeling healthy, happy, and whole.
Remember, stress isn't something that will magically go away. We all have stress. It can be good and bad. Most importantly, be aware of how you react to it and how you're managing it. When you add these steps to your life, you'll begin to realize that it can be easy to manage stress during the holiday season.
[Editor's Note: If you want to eliminate unhealthy ingredients and chemical additives from your diet for good, click here to sign up for a Naturally Savvy Get Healthy Challenge.]