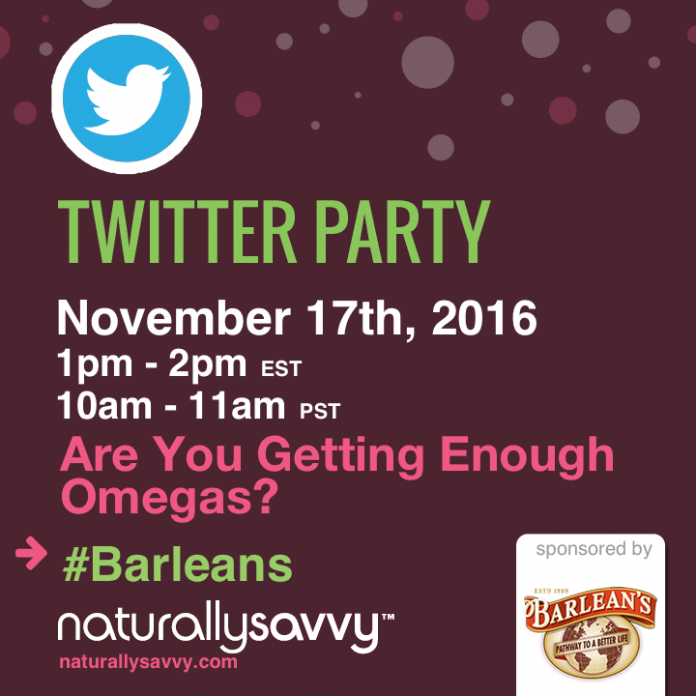 We're passionate about healthy eating and a healthy lifestyle here at Naturally Savvy. But how do we know if we are getting enough of the essential fatty acids we need? We'll be answering that question with our sponsors Barlean's.
Join us for an interactive and educational Twitter Party on November 17th when we talk about all the great sources of Omegas from Barlean's. We'll also have tips on how to incorporate more of them into our day, so we make sure we are in fact getting enough.
Date: Thursday, November 17th, 2016
Time: 1-2 pm EST
Hashtag: #Barleans
No RSVP required!
Prizes:
2 prizes of the Ultra High Potency Fish Oil Omega Swirl Key Lime Flavor (Valued at $33)
1 prize of the Flax Oil Omega Swirl Mango Fusion (Valued at $24)
2 prizes of the Flax Chia Coconut and the Digestive Blend (Valued at $25)
1 prize Flax Oil 1 oz (Valued at $22)
Prizes are for US Only.
Be sure to follow your hosts before the event:
Check out Barlean's on the web: barleans.com
Facebook: facebook.com/barleans
Twitter: twitter.com/barleans