Here comes the sun! It feels so warm on our skin and helps us produce Vitamin D which has been shown to boost the immune system, help your body better use calcium and more. But too much sun exposure has a dark side, sunburns, and premature aging. So to protect ourselves we need a natural mineral based sunscreen we can trust. Enter Goddess Garden. Inspired by her daughter's sensitive skin, Nova Covington developed safe sunscreen for the whole family and has now launched a skin repair line.
Join us while we discuss healthy sun exposure, mineral based sunscreen and learn about Goddess Garden's new line of sun repair products.
Be sun-prepared this summer!
Date: Thursday, June 2, 2016
Time: 1-2 PM EST / 10-11 AM PST
Hashtag: #DownToOurRoots
No RSVP required!
Prizes: 5 Standard Prizes: Under the Sun Pre-Sunscreen Serum, Face the Day SPF 30 Sunscreen and Firming Primer, and Sport Sunscreen Stick (retail value $44)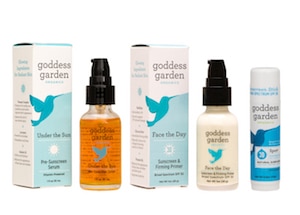 1 Grand Prize: Sun Repair System full set (retail value $124)

Prizes are for U.S. Only.
Be sure to follow your hosts before the event:
Check out Goddess Garden on the web and on Facebook.