Pregnancy Diet Impacts Child Development and Intelligence
Your pregnancy diet and your child's diet during early life impact the long term health, wellbeing, brain development, and mental performance of your child according to researchers from the NUTRIMENTHE project who looked at diet during pregnancy in a 5-year study of European families.
The researchers specifically looked at the impact of B-vitamins, folic acid, breast milk versus formula milk, iron, iodine, and omega 3 fatty acids. They looked at how these nutrients affected cognitive, emotional, and behavioral development in children from pre-birth to age 9.
Read more about omega-3 sources
It should come as no surprise that folic acid plays an important role in development and was found to reduce the likelihood of behavioral problems during early childhood. Fatty fish are also essential, both as building blocks for the brain and for the iodine that was shown to have a positive impact on reading ability when kids reached age 9.
A Long Term Look at Child Development
Doing this research as a long-term study was crucial in seeing the real impact diet has on child development.
"Short term studies seem unable to detect the real influence of nutrition in early life," explained Professor Cristina Campoy, who led the project, on Science Daily. "NUTRIMENTHE was designed to be a long-term study, as the brain takes a long time to mature, and early deficiencies may have far-reaching effects. So, early nutrition is most important."
Other factors that were shown to impact a child's behavior included education level of the parent, socioeconomic status, age of parents, and the genetic background of the mother.
In giving advice to parents, Campoy explained, "[it] is important to try to have good nutrition during pregnancy and in the early life of the child and to include breastfeeding if possible, as such 'good nutrition' can have a positive effect on mental performance later in childhood."
Like Mother Like Child
Earlier studies have shown that pregnancy food choices impacted the child's palette later on. A study at University of Colorado School of Medicine showed that mothers familiarize kids with certain foods during pregnancy which directly influences what they prefer later on in life. According to the story, "To be able to influence a child's taste and smell preferences is to ultimately control his or her likelihood of healthy eating choices."
The bottom line is that mothers have a real and lasting impact on their child through the diet choices that they make during pregnancy. It's all the more reason to enjoy a whole foods, plant-based diet full of organic fruits, vegetables, whole grains, nuts, seeds, and fatty fish at least once a week during pregnancy.
Read more about eating organic foods
Photo Credit: Ep.Sos.de
---
About the Author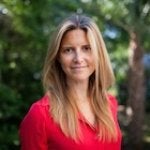 Sara Novak specializes in health and food policy writing for Discovery Health. Her work has also been featured on TreeHugger, HowStuffWorks.com, TLC Cooking, and Animal Planet. After graduating from the Grady School of Journalism at the University of Georgia, Sara headed up the communication efforts for a national scholarship program in Washington, D.C. Sara has also handled copy writing and public relations for a global environmental consulting firm. She loves fiddling with healthful recipes, traveling, and exploring life atop her yoga mat. Today, Sara lives in Charleston with her husband and two lovable cocker spaniels, Madison and Bella.