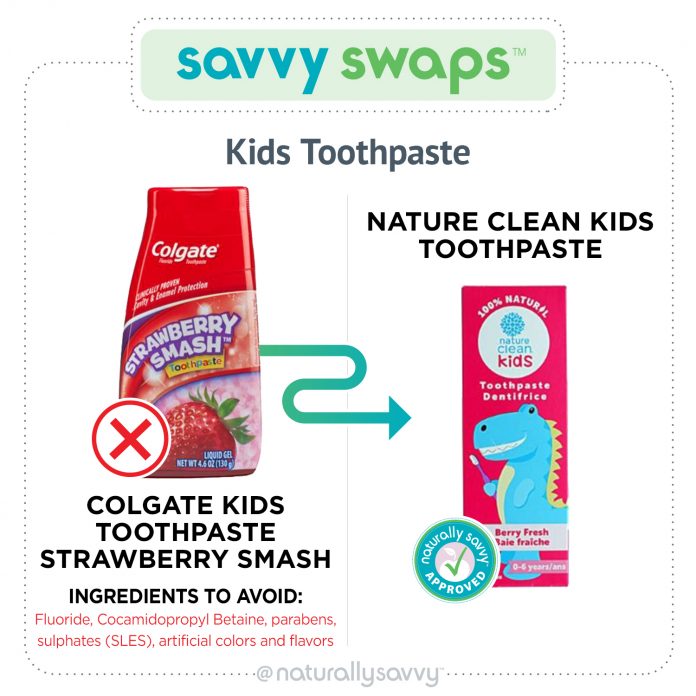 Twice a day we find ourselves reminding our kids to brush their teeth. At Naturally Savvy, we learned early on that kid's toothpaste is often marketed to kids with fancy flavors, colors, sparkles, and to parents who want to ensure their kids don't get cavities with fluoride.
It has since been discovered that fluoride is a neurotoxin and this is something to avoid. This is especially important to young developing brains since kids aren't very good at spitting out their toothpaste, you can decrease their exposure by choosing a product without fluoride.
We also try to minimize our kid's exposure to artificial flavors and colors because they are believed to lead to issues with behavior. And those plastic sparkles in the toothpaste are awful for our oceans plus a bunch of it gets swallowed.
For ourselves, we choose fluoride-free toothpaste and for our kids, we love the toothpaste from Nature Clean. Even the names of the flavors sound tasty "Berry Fresh" and "Tangarine Tango". In our Savvy Swap, we have highlighted the ingredients you should avoid in all toothpaste. Keep this graphic handy when you go shopping.
More Savvy Swaps.