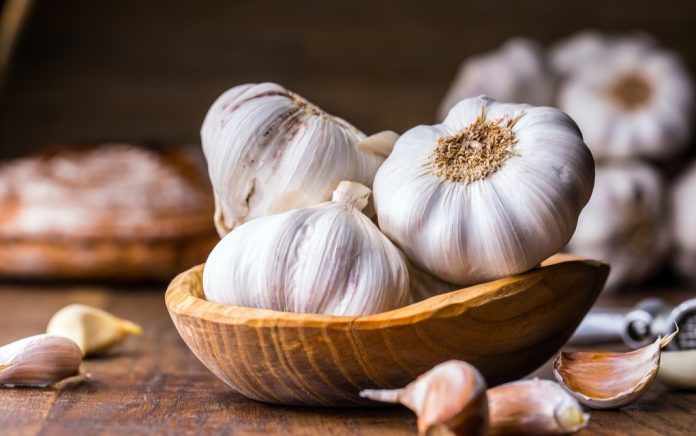 Garlic belongs to the Allium genus, making it a close relative to chives, onions, scallions, leeks, and shallots. Scientifically referred to as Allium sativum, garlic has been used for human consumption for thousands of years. Archaeological research shows that major ancient civilizations such as the Egyptians, Chinese, Babylonians, the Romans and the Greeks used garlic as medicine, as well as for food flavoring (1).
One of the most beneficial nutrients found in garlic is allicin, a sulfur compound responsible for the smell of garlic. Scientific research shows that the compound has several health benefits including prevention of cardiovascular diseases, antioxidant properties, and prevention of fatigue among many other benefits.
Garlic contains a host of other nutrients that include vitamin C, diallyl sulfide, selenium, vitamin B6, vitamin B1, copper, manganese, calcium and phosphorous.
The following are some of the health benefits of garlic that scientific evidence backs up. Also included in this article is a delicious garlic recipe that you can make at home.
1. Garlic can help prevent fatigue
Garlic has been used as an anti-fatigue agent since the times of the first Greek Olympians. It also contains thiamine, pyridoxine, copper, and phosphorous, which help prevent fatigue even in critically ill patients.
2. Garlic is effective in the treatment and prevention of cardiovascular diseases
Garlic, owing to its nutrients, has the capability of lowering blood pressure and cholesterol levels, both of which are high risk factors for cardiovascular diseases.
3. Garlic can help enhance the immune function
Garlic, through its sulphuric, fatty acid, and metal nutrients, can help improve the immune functions in humans.
4. Garlic contains anti-cancer properties
Garlic has potent anti-cancer properties against a variety of cancers that afflict us.
5. Garlic can help in the prevention and treatment of diabetes mellitus
Garlic has been shown to be effective in the prevention and the management of diabetes mellitus owing to its hypoglycemic action.
Read About The Diabetic Diet: Good for Everyone (Diabetic or Not!)
6. Garlic contains anti-microbial properties
Scientists have shown that garlic is an effective anti-microbial owing to its anti-protozoal, anti-fungal, antibacterial, and antiviral properties.
7. Garlic can help protect against hepatotoxicity and is an effective detoxifier
Garlic is an efficient anti-hepatotoxic as well as detoxifying agent. It can help prevent and treat hepatotoxicity caused by carbon tetrachloride, nitrates, lead, nicotine, gentamicin, and acetaminophen.
8. Garlic can help improve the health of bones
Garlic contains nutrients that are essential for optimum bone health, and their deficiencies can result in bone diseases such as osteoporosis.
9. Garlic is rich in antioxidants
Garlic contains a host of nutrients that possess anti-oxidant capabilities, which help prevent, reduce, and reverse oxidative damage in the body.
Ever Tried Black Garlic, Learn More about This Anti-oxidant Rich Food
10. Garlic can help improve cognitive function
Scientists have demonstrated that garlic and its compounds are essential in the maintenance of healthy cognitive function, and the prevention of age related cognitive diseases such as Alzheimer's and dementia.
11. Garlic can help improve skin health
Garlic contains vitamin C, copper, selenium, and calcium, which are essential in promoting healthy skin.
Read About Skin Care Products: Steer Clear of These 5 Ingredients
12. Garlic can be used in fighting obesity
Garlic contains thiamine, and calcium, which studies show are effective in promoting weight loss especially in obese individuals.
13. Garlic can help protect against premenstrual syndrome
Garlic has been known to be effective in reducing the physical and emotional disturbances that occur during PMS in women.
14. Garlic can help promote a healthy alkaline pH Level
The calcium and phosphorous contained in garlic can help the body achieve a healthy pH level, which is crucial in the prevention of diseases.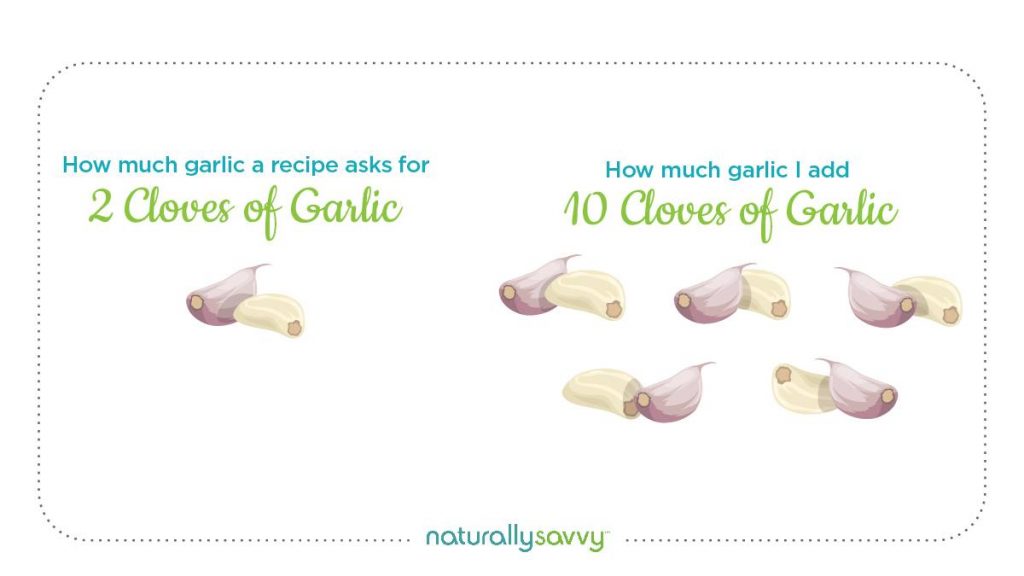 15. Garlic can help promote eye health
Garlic, owing to its significant levels of vitamin B1, is essential in promoting proper eye health.
To read more about the specific research and benefits of garlic, check out the full article here.
Tasty and Healthy Garlic Recipe
This delicious garlic recipe you can make for you, your family, and guests so you can all gain benefits from garlic.
Roasted Shallots and Garlic 
This dish served with dry wine is the best accompaniment to a dry roast chicken, or you can decide to eat it as it is with some grilled bread. The recipe is designed to serve four people.
Ingredients
4 fresh garlic cloves
Salt and black pepper to taste
8 shallots
An ounce of grated parmesan (or non-dairy substitute)
5 sprigs of thyme
180 ml of fino (or dry red wine)
4 bay leaves
An ounce of unsalted butter
600ml of chicken broth
Preparation
1. Preheat your wall oven to 180 degrees Celsius. As the oven heats up, take the garlic bulbs and slice them horizontally. Halve the shallots as well. Place each piece of garlic on the baking tray, accompanied by the halved shallots, salt, pepper, bay leaves, and thyme.
2. Boil the chicken broth, and then pour it over the shallots and the garlic. Do the same thing with the fino.
3. Tightly cover the tray with foil and put in the oven to roast for the next half hour to forty minutes. Remove the tray from the oven and uncover it. Return the tray back into the oven and allow it to roast for a further quarter of an hour. This should allow the garlic and shallots to properly cook, as well as the broth to become thicker.
4. Remove from the oven and stir in the parmesan and butter. Adjust the pepper and salt if necessary, and then serve.