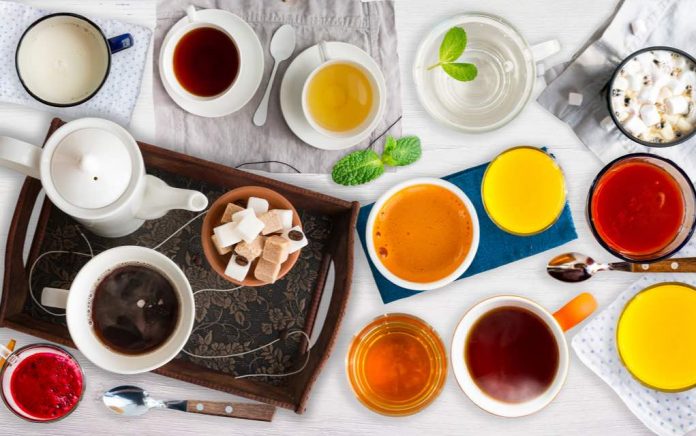 Similar to the food trends for 2020, those for drinks or beverages cover a wide gamut of ingredients and appeal to a wide range in population. At the same time, several of the drinks trending in 2020 are taking a decided turn toward social responsibility and sustainable sourcing. For example, reducing food waste and using food scraps is a trend in the food sector, and beverages are joining the ride as well.
So raise your glass and join us in welcoming the beverages that are destined to make a mark in 2020. Which ones will you try? What have you tried already and what do you think about them?
Read about 8 beverage trends for 2019
Trend #1: Non-alcoholic cocktails
Also referred to as mocktails, spirit-free drinks, and zero-proof beverages, these drinks are growing in popularity. Some of these mocktails include infused sparkling waters, botanical-infused faux liquors, and fruit juices. Look for them in bars, specialty stores, and restaurants.
Trend #2: Waste reduction beverages
Some of the new beverages on the market will be made at least in part with plant components that used to be ignored or thrown away. These may include beet greens, avocado blossoms, and sweet potato leaves.
Another part of the waste reduction effort involves using reusable cups and strawless lids. Better yet, bring your own reusable container from home when you go to some venues, such as coffee shops and diners.
Trend #3: Oat milk
Oats aren't just for breakfast anymore! Although oat milk has been on the market for several years, it's beginning to enjoy some well-deserved recognition. Many people seem to enjoy that it is somewhat "thicker" than rice and almond milk. Oak milk makes a great smoothie!
Trend #4: Unusual fruit flavors
Tired of orange, grape, apple, and grapefruit juices? Then you'll love the more unique flavors hitting the market. Be on the lookout for bergamot orange, citron, dragon fruit, makrut lime, Meyer lemon, pomelo, prickly pear, star fruit, ugli fruit, and yuzu.
Once you make your discoveries, enjoy these unusual fruit flavors over ice, in a smoothie, as part of a cocktail, or mixed with sparkling water. Introduce your friends and family to new fruit flavors.
Trend #5: More sparkle
It seems that younger beverage consumers are flocking to sparkling water because they like the carbonation without the sugar. The bubbly isn't limited to water, however. Also, watch for a rise in sparkling wines.
Read about 9 teas that help our health
Trend #6: Cheese tea
If your first reaction to hearing the words "cheese tea" is "no way," humor us for a moment. Cheese tea is growing in popularity around the world. It consists of sweetened black or green tea, hot or cold, and topped with a creamy cheese foam made up of sweetened condensed milk, whipped cream, and cream cheese, and sprinkled with salt.
This tea is relatively high in calories and fat and can also be high in sugar, depending on how much you add. For this reason, you may want to consider it an occasional treat, if cheesy tea appeals to you.
Trend #7: Egg coffee
As Vietnamese cuisine edges its way into Western culture, one of the beverages is among the choices. Coffee drinks may want to venture into the streets of Hanoi, where egg coffee is popular. The Vietnamese version differs somewhat from the one found in Scandinavian countries. You can try this Vietnamese egg coffee recipe and let us know what you think!
Trend #8: CBD-infused beverages
The CBD-infused beverage trend will continue and likely gather steam in 2020. Because of Food and Drug Administration regulations and differences in states' laws, producers of CBD-infused beverages will continue to be careful as they market their products. CBD occurs naturally in hemp extract and oil, and these are legal under the Farm Bill. Therefore, these ingredients will continue to be the most commonly used ones in CBD-infused drinks for now.
Trend #9: Visually appealing beverages
Beverages should do more than taste good; they should look appealing as well. According to Imbibe, some drinks will be boldly colored naturally using beets, spirulina (for a blue color), matcha, butterfly pea flowers, and turmeric. The Drink Business also reports that pink is definitely in: pink-hued vodka and gin, as well as wines and champagnes are becoming all the rage.
Bottom line
Are you ready for the new drinks trending in 2020? They are promising to tantalize your taste buds in some innovative ways as well as your eyes, and hopefully the innovations will be kind to the environment as well.
Sources
Hancock E. 7 consumer drinks trends to watch in 2020. The Drinks Business 2019 Nov 16
Shoup ME. Imbibe 2020 beverage trend predictions shaped by health and wellness, thirst and cultural adventure and state of the economy. Food Navigator USA 2019 Dec 4