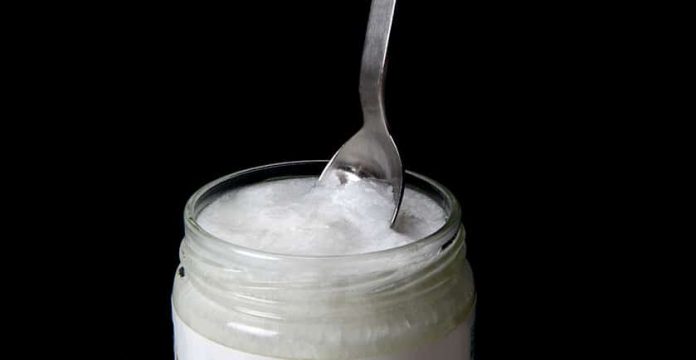 Did you hear the news? Coconut oil can reduce stress. We already gave 27 great uses for coconut oil and have come up with nine more.
1. Coconut Oil for Shaving
Although coconut oil starts out liquid when you smooth it on your warm skin, ta-da! It turns to liquid. Rinse your hand before picking up your razor because the coconut oil can be a bit slippery. The bonus is your skin will be soft and moisturized.
2. Coconut Oil for Frizzy Hair
Does your hair frizz in humid weather? Put a small amount of coconut oil in your hands. Rub together, so it liquefies and simply smooth down the frizzy hair. Plus your hair will be shinier and super soft.
3. Add Coconut Oil to Smoothies
Add coconut oil to your smoothies for an extra boost of energy and healthy fats.
4. Use Coconut Oil in Coffee
Often called Bulletproof Coffee this concoction will give you the added benefits of more energy, a metabolism boost, and kick to your immune system. So pull out that big mug and enjoy.
5. Use Coconut Oil to Season Cast Iron Cookware
Cast iron is a great way to cook your food, but sometimes you need to seal up your cooking surface to keep the food from sticking. Coat the pan with a thin layer of coconut oil and place in the oven upside down. Make sure to put some foil under it to catch drips. Bake the pan in the oven for an hour at 350. Your pan will look shiny and new with an amazing non-stick surface.
6. Use Coconut Oil is a DIY Sugar Scrub
Back to beauty. Combine 1/4 cup granulated (coarse) sugar with 1/2 cup coconut oil. You don't want to heat the oil to combine it, or the sugar will dissolve. Optionally you can add a pinch of essential oil of your choice to give it a nice scent. Then rub on skin and wash off. Your skin will be smoother and moisturized.
7. Coconut Oil Cuticle Cream
Next time you are giving yourself a manicure, rub a tiny amount of coconut oil into your cuticles when you are done. Don't do it before you polish your nails will be too oily. Your cuticles will be soft, and you will get less ragged cuticles.
8. Boot conditioner
If you live anywhere in the snowy regions where they put salt on the ground to melt snow and ice, you will for sure see white marks on your boots once the moisture evaporates. Clean your boots and polish them and then treat them with a thin layer of coconut oil. No more white marks. The only caveat here is not to use it on suede.
9. Coconut Oil Popcorn Topping
Movie night at home, grab some Barlean's Butter Flavored Organic Coconut Oil and use it on your popcorn. We promise you won't regret it.