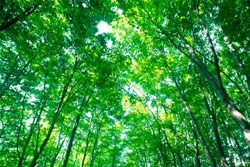 Trees are one of this planet's greatest resources and play an important role in our daily lives. Every day trees around the world are destroyed by natural and manmade causes. In addition, land is consumed to make way for development. As our planet changes it is important to maintain, and preferably increase, the tree population around the globe. We all should make an effort to preserve forests in our communities.
Here's why:
Trees clean the air. Trees remove various air-born pollutants including carbon dioxide produced by automobiles. They also release oxygen into the air. Maintaining our forests helps counterbalance the effects of pollutants.
Trees reduce energy consumption. Planting a deciduous tree on the south side of a home provides shade which cools the building in summer thereby reducing the amount of energy used for air-conditioning. Shade trees can make buildings up to 20 degrees cooler in the summer. When the leaves fall, this same tree allows the sun's energy through to keep the home warmer in winter. This creates savings in energy bills, and provides a beautiful tree to enjoy while you're outdoors.
Trees support wildlife. Trees are important to many species of wildlife. Some animals make their homes in trees while others use them as a stopover on their seasonal migration journeys. Trees also provide food and shelter for a wide variety of animals. Preserving our environment includes supporting wildlife. A tree outside your window allows you to enjoy nature and all its splendor.
Nature provides us with many benefits, some crucial to our survival. We need to replace trees today to nurture the Earth and its inhabitants for future generations. Many cities and communities across the country promote tree planting programs in addition to implementing by-laws that protect existing trees. Various organizations offer tree planting sessions at different times of the year. Find out more about tree planting in your state at TreeLink.org.