Healthy & Homemade: 5 Natural Soda Recipes
For people who love soda – and many, many people do; soda manufacturers make enough soda for every man, woman, and child in the U.S. to drink 52 gallons of it a year – a better option is to make your own. The homemade all natural soda recipes allow you to choose how much sugar to add; it also allows you to swap out questionable ingredients for natural ones. Plus, they're really yummy.
Some of the following soda recipes are based on making a simple syrup to add to sparkling water, while others are single-serving recipes that you can mix on the spot. They are conceived around the idea of employing a punch of flavor so that you don't need to have the soda quite so sickeningly sweet as is typical in conventionally sweetened sodas using high fructose corn syrup. These soda recipes are also flexible to allow you to increase or decrease the level of sweetness.
Read more about high fructose corn syrup and obesity
1. Ginger Lemon Soda Recipe
Yield: syrup for 16 servings
Ingredients
2 ounces fresh ginger
1 cup water
1/2 cup raw sugar or Sucanat
2 pieces lemon zest
Directions
Wash and grate ginger (it doesn't need to be peeled) and bring all ingredients to a boil in a medium saucepan. Remove from heat, cover, let steep for an hour, and strain. Add to sparkling water by the tablespoon to taste; per tablespoon there are roughly 1 ½ teaspoons of sugar, or around 21 calories. (Syrup keeps for one week refrigerated in an airtight container.)
2. Lime Basil Soda Recipe
Yield: 1 serving

Ingredients
1 lime
2 teaspoons honey
2 fresh basil leaves
Directions
Cut a washed lime in half and add both pieces to the bottom of a large glass with basil and honey. Mash very well with a spoon, fill glass with sparkling water and ice. Voila. Approximately 42 calories per serving.
Read more about hidden ingredients in honey
3. Maple Cream
Yield: 1 serving

Ingredients
2 teaspoons maple syrup
1/4 teaspoon pure vanilla extract
Directions
Add ingredients and sparkling water to a large glass, gently stir in ingredients, add ice, and enjoy for a mere 35 calories.
4. Lavender Plum
Yield: Lavender syrup for 24 servings
Ingredients
1/2 cup honey
1/4 cup raw sugar
1 cup water
1 tablespoon lavender flowers
1 ripe plum
Directions
Bring water and lavender to a boil and add sweeteners; remove from heat and let steep for one hour. Strain. Wash and slice the plum in half, add to a large glass with 1 teaspoon lavender syrup and mash with a spoon. Leaving fruit and pulp in, add sparking water. 70 calories for this one, but it comes with half a serving of fruit if you finish the plum once the soda is gone. (Syrup keeps for two weeks refrigerated in an airtight container.)
Read more about the top 8 natural sweeteners
5. Grown Up Shirley Temple
Yield: Syrup for 16 servings
Ingredients
1/4 cup raw sugar
1 cup unsweetened pomegranate juice
Juice of 1/2 lemon or lime
Directions
Place juice and sugar in a saucepan over medium heat and bring to a boil stirring frequently for five minutes or until slightly thickened. Add citrus juice and allow to cool. Add 1 tablespoon of syrup to sparkling water (or more to taste) and garnish with a fresh cherry, no paper umbrella required. (Syrup keeps for two weeks refrigerated in an airtight container.)
Image: socceraholic
---
About the Author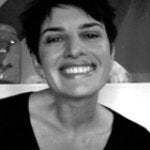 Melissa Breyer is a Brooklyn-based writer specializing in food, science, and design.