Study Finds Toxic Herbicide Glyphosate In Breast Milk
A pilot study by Moms Across America and Sustainable Pulse conducted the first testings of glyphosate levels on breast milk in American women. What they found are high levels in three out of the 10 samples tested. The levels of glyphosate found in breast milk are 760 to 1,600 times higher than the European Drinking Water Directive allows for individual pesticides, but less than the 700 ug/l maximum contaminant level for glyphosate in the U.S.
Moms Across America and Sustainable Pulse also tested 35 urine samples and 21 drinking water samples from across the U.S. In the urine samples, they found glyphosate levels that are more than 10 times higher than those found in similar testings done in 2013 in the EU by Friends of the Earth Europe, which tested people in 18 countries across Europe. Thirteen of the drinking water samples contained glyphosate levels between 0.085 ug/l and 0.33 ug/l which is below the levels found in both the urine and breast milk samples but is higher than the EU maximum of 0.1 ug/l allowed in drinking water.
"The purpose of this glyphosate testing project is to shed light upon the presence of glyphosate in our water, children's bodies and mother's
breast milk
, hopefully inspiring further scientific studies to support the world in being a healthy, safe place to live," said Moms Across America Founder and Director, Zen Honeycutt.
There are a number of crops in the U.S. that are mostly genetically modified, requiring glyphosate-based herbicide applications including soybeans, corn, canola, cotton and sugar beets. In Europe only one GMO crop is allowed, Monsanto's MON810 maize, and it's still not allowed to be grown in most European countries.
A 2012 study published by Washington State University found the use of glyphosate in three GMO crops (cotton, soybeans and corn) has increased. The author of the study, Charles Benbrook stated, "Most genetically engineered soybeans now moving through trade channels worldwide contain 2 ppm to over 10 ppm of glyphosate plus its major metabolite, AMPA. These are extraordinarily high residues that raise concerns, given that many people are exposed to glyphosate through drinking water, the air, and a variety of foods."
Read more about the effects of glyphosate exposure
The initial tested completed at Microbe Inotech Labs in St. Louis, Missouri is not meant to be a full scientific study, but "set up to inspire and initiate full peer-reviewed scientific studies on glyphosate, by regulatory bodies and independent scientists worldwide," according to a press release. Moms Across America is concerned about the pilot testing results and is calling for the practice of spraying glyphosate on
GMO
crops to stop and as a drying agent on food crops. Both Moms Across America and Sustainable Pulse are calling for adequate testing on
glyphosate
formulations to make sure they are not "persistent, bioaccumulative or toxic."
Image:
ohkylel
---
About the Author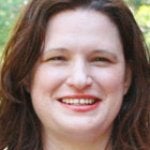 Gina-Marie is a freelance writer armed with a passion for healthy living and a degree in journalism. Hailing from the dry, sunny Central San Joaquin Valley, she hasn't let the heat fry her brain!