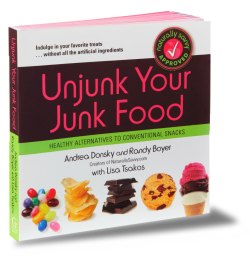 Unjunk Your Junk Food is a fun, handy, supermarket-friendly guide to the best-tasting, best-for-you junk food made with natural ingredients.
True or False? Eating healthy means giving up junk food.
False! You just have to make smarter choices.
Even the healthiest health nut needs a junk food fix every now and then. Indulge in your favorite treats . . . without all the artificial ingredients. 
Inside Unjunk Your Junk Food you'll find:
• Side-by-side comparisons of popular conventional brands and their natural alternatives<
• Healthy ingredients to look for and dangerous additives to avoid
• A handy cut-out chart of the worst ingredients to look out for when grocery shopping
• Tips for recognizing the misleading marketing tools used to confuse you when reading food labels
• Healthier choices for the snack foods you already buy