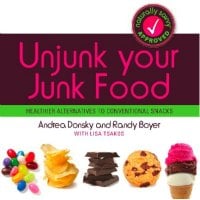 "Unjunk Your Junk Food is a very attractive and informative book. For anyone embarking on the often daunting path of trying to clean up their diets, this book is a really fine place to start."
Alan and Suzanne Arkin
Read our interview with Alan and Suzanne here.
"Thank you for sending me an 'official' copy of your book, Unjunk Your Junk Food. Congratulations! It looks great – interesting, informative, easy to read, and best of all, fun!
Thank you for sharing your book with me, and I know many people will use your book as their go to guide when shopping for groceries. You've certainly made me more aware about the food that my children and I eat and the effects it has on our body and mind."
Maria Shriver
"Unjunk your Junk Food is a great guide for health conscious parents. This amazing reference book is full of ideas to help you eliminate junk food and replace with healthy alternatives. More fun, and less guilt!"
Rachel Lincoln Sarnoff
CEO/Executive Director of Healthy Child Healthy World
"Ever wonder why you can't just stop at one serving of junk food? Unjunk Your Junk Food will teach you how to break down and understand what those ingredients you can't pronounce do."
Kathy Wakile
The Real Housewives of New Jersey, Entrepreneur, Philanthropist
"During the era of hunter-gatherer, there were no Doritos, and food meant survival. During the agricultural revolution, food was organic and bountiful. Through the industrial revolution chemical laden convenience food surfaced. Today, 'real' food is hard to find. What there is a lot of however is junk food – an abundance of synthetic and harmful ingredients. But, let's be honest here. Junk food won't soon be replaced by sprouted grain puffs, tempeh crisps, or carob covered turnip sticks — these delectable delights will never win over the taste buds of the masses. So, what are we to do if we're going to survive? The answer is to continue to indulge (while in moderation!) in your favorite treats but without all of the artificial ingredients. In other words, it is time to Unjunk Your Junk Food! This handy — and don't-be-fooled-by-its-small-size masterpiece — of healthy alternatives to conventional snacks is packed with need to know "do's" and "don't's". Andrea Donsky, Randy Boyer, and Lisa Tsakos school us with a lexicon of how to navigate the junk food laden aisles of the post industrial revolution box superstores and convenience stores. Finally some clarity on whether Nitrites belong in you or your car, whether Butylated Hydroxyanisole makes your food safe or should be used to coat the space shuttle, and whether Olestra is something safe to spread on your toast or is better used to lubricate your door hinges. If you like to nosh – and who doesn't – it's a must read!"
Bryce Wylde BSc, RNC, DHMHS
Host of Wylde On Health
Author of The Antioxidant Prescription: How To Use The Power Of Antioxidants To Prevent Disease And Stay Healthy For Life
"Unjunk Your Junk Food is a visual delight crammed full of good information for people of all ages. I call Unjunk Your Junk Food a 'nutrient-dense book'. I loved it!"
Debbie Mandel
Radio Host WGBB-AM
"Very well done and easy to understand"
Rusty Humphries
Radio Host Talk Radio Network (TRN)
"Unjunk Your Junk Food' is an amazing book! It emphasizes the unhealthy ingredients of popular snacks and suggests healthier – yet tasty snacks that are better for you. I've learned so much from looking through this book. 'Unjunk Your Junk Food' has back-to-back pages of colour photos with easy to read text and engaging layout. It's a great reference book to start off the New Year!"
Joanne M
"It isn't a book that says "you can't do this!" instead it is a book that says 'eat your treat, but eat this one instead.' There are comparison pictures in this book. I LOVE that! But each product is broken down and areas like calories and sodium are highlighted. Your attention is called to the important things. If there is one book that I think everyone should read in 2012, THIS is it. There are so many things to learn from Unjunk Your Junk Food."
Leandrea Voskanian
couponsaregreat.net
"I'm a mother of two and I always have snacks and treats in my bag for my kids. It is great to know which snacks I should have on those busy days running errands. It is also small enough to fit in my bag when I'm doing my grocery shopping. Great info, great book!"
Carrie Campbell (from Indigo.ca)
"This book is full of great tips on how to make better food choices! It taught me a lot about the snacks I eat, what exactly is in them and the ingredients I should watch out for. It's easy to understand and helps me compare products in order to make healthier choices when shopping!"
Laura Mauer (from Indigo.ca)
"A must for all parents. Great resource for parents to guide their children to healthier snacks. I was surprised to learn how unhealthy some common snack choices are. Fun format! Even my kids are into this book."
Susan Jurbala (from Indigo.ca)
"'Unjunk Your Junk Food' is a great book for anyone looking to make small changes to their diet that will ultimately lead to a healthier way of eating. I love how 'Unjunk Your Junk Food' covers just about every kind of junk food craving and offers healthier suggestions. The book is full of great tips and trivia, all presented in an interesting and entertaining way. I especially like the glossary at the back that helps people to decipher those mysterious and hard-to-pronounce ingredients that are found in many processed foods."
Kristen Duever
@TDJohnson: It was great 2 discover #unjunkyourjunkfood! It snapped me out of my 'convenience' mommy-mode. Take a moment & READ.
"After you take a look at "Unjunk [Your Junk Food]," you may wonder what you did without it."
Don Mauer
The Daily Herald
"I think this is a fantastic way to look at food and – not to just read the nutrition facts label but to read the actual ingredients first and keep an eye out for the scary seven."
Suzanne Desautels
CJAD 800AM
"I just wanted to thank you for the awesome book! It was so helpful and I learned alot about what I was eating. I never really payed attention to the foods I was buying, and now I carry this book with me when I go to the grocery store! My kids even have read the book and now lecture their friends on "good foods and bad foods". Thank you again and I am so glad that your cookies are "good foods!"
Contest Winner – Matt's Cookies
"Loved it – as a matter of fact, I had to order 2 new ones off facebook for my sister & mom because they wouldn't leave mine alone! Wonderful book & nice bright colorful pictures that my kids can look at & pick out the good & bad foods!"
Sam W from MN
For more reviews from readers who loved the book, click here.