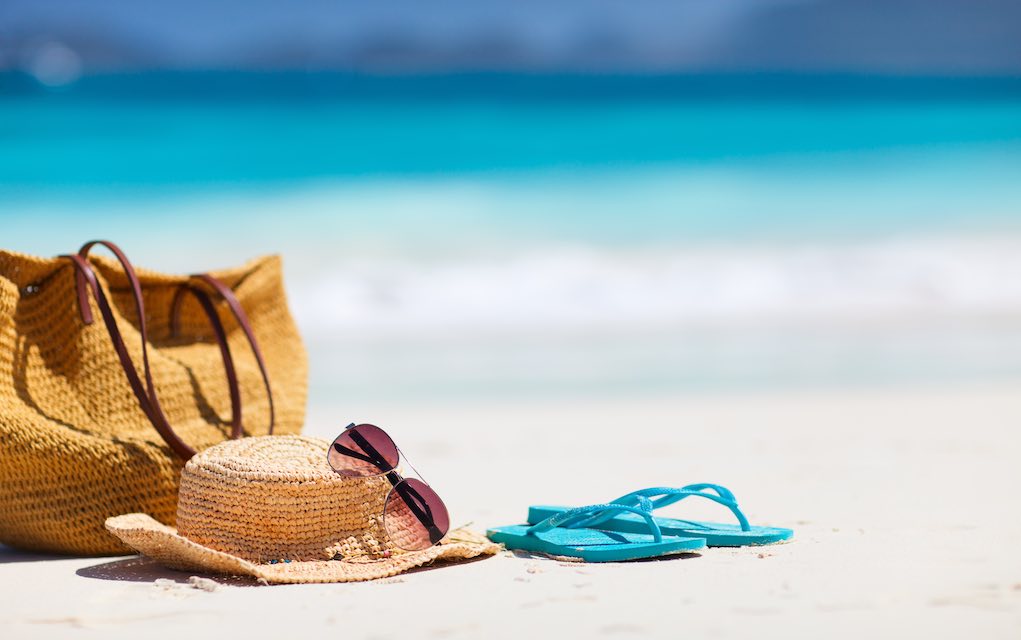 Ralph Waldo Emerson said that in summer, one should "live in the sunshine, swim the sea, drink the wild air." Whether you are sitting by the ocean, a lake, or a pool, or you are having picnics and barbeques, sipping cold lemonade or beer, or setting out on a family vacation, there are things to keep handy this summer to help ensure you are safe and sound while having fun.
#1 Aloe vera
This incredible succulent can be the go-to item in the summer because it is so versatile! The long, thick leaves are full of gel that is mostly water with vitamins, minerals, and other nutrients. Apply aloe vera gel to your skin to help keep it hydrated.
For an extra dry skin, combine aloe vera gel with a few slices of peeled cucumber and 2 to 4 drops of lemon juice. Blend them in a food processor or blender and apply to your skin. Leave it on for 15 to 20 minutes and then rinse it off with water. Use this hydrating combination as needed.
If you stay in the sun too long without proper sunscreen, you may need to spread some aloe vera gel on your sunburn. Keep aloe vera gel or an aloe vera plant handy just in case!
[Editor's Note: Our favorite aloe vera gel is from Lily of the Desert. It's made in the USA and it's organic!]
Subscribe to our YouTube Channel.
#2 Epsom salts
Summer means sandals, flip flops, and open shoes with straps. It also frequently means hot, swollen feet after walking the beach or touring the streets during your vacation. What can make your feet feel better? Epsom salts!
Several times a week at the end of the day, treat your feet to an Epsom salt soak. Combine ½ cup of Epsom salt to a gallon of lukewarm water. Soak your feet for 15 to 20 minutes.
According to the Epsom Salt Council, there's a healthy way to prepare your body for sunbathing or other prolonged exposure to the sun. Use of the following dermabrasion recipe will help eliminate toxins trapped in your skin and allow for better absorption of sunscreen.
DIY Epsom Salts Body Scrub
4oz Epsom salts

4 oz coffee grounds

1 tsp eucalyptus oil

Enough avocado oil to help form a smooth paste
Combine the Epsom salt and coffee grounds in a medium bowl. Add the oils and stir thoroughly until the mixture is a smooth paste. Bring the body scrub into the shower, wet your skin, and vigorously scrub your body with the mixture, from head to toes. Rinse and repeat as needed.
Read about 9 surprising benefits of Epsom salts
#3 Footsies for dogs
We can't forget our furry friends in the summer. The pads on dogs' feet are sensitive to the searing asphalt, sand, and concrete. Admittedly, not all dogs welcome the feeling of footsies on their paws. Some dogs seem to be more willing to deal with the socks than the shoe-style footsies. If you want to experiment before making a purchase, you can make your own dog footsies using human socks or from fleece.
#4 Fresh fruit
When temperatures rise, so should your intake of fresh fruit. Summer fruits provide water, nutrients your body needs, and help you stay cool. Some of the more popular summer fruits include watermelon and mangoes (both high in potassium, which helps prevent muscle cramps and maintains water balance) and strawberries, which are great sources of vitamin C. Of course, you don't need to limit yourself to these fresh fruits—there are many more from which to choose!
#5 Hair care
Summer means pools and oceans, so that also means chlorine and salty water, both of which can damage your hair. Although chlorine is added to pool water to kill bacteria and other potentially harmful substances, it also can damage your hair. Chlorine dries out the hair shaft, which in turn causes hair to become brittle, coarse, and more likely to break.
Salty water also takes a toll on hair. Salt draws water out of your hair, leaving it brittle and dry. If you have color in your hair, you will notice your hair will be coarse.
Before you dive into a pool or the ocean, be sure to have a plan. Here are several options:
Swim cap. This is the best option because you don't have to treat your hair or even worry about exposing your hair to chlorine or salt.
Oil. Treat your hair with coconut or olive oil before swimming. Both oils nourish the hair and won't weigh your hair down. Coconut oil is especially good at strengthening the hair shaft.
Leave-in conditioner. This works similar to the oils. You can buy leave-in conditioners that are specially formulated for protecting against chlorine. Apply as directed on the package.
Wet hair with regular water. If you wet your hair with regular water before you get into the pool or ocean, your hair will be less able to absorb the chlorine or salt.
#6 Lip balm
The summer sun can be brutal on your sensitive lips, so be sure to keep them safe and healthy with an easy lip regimen. Yes, that means lip balm, but there are a few other tips you should follow as well.
Stay hydrated. Water helps keep your lips perky.

Don't lick your lips when they feel dry. This will only irritate them.

Exfoliate your lips once or twice a week. You can use a simple homemade recipe. Combine 1 teaspoon of honey with two teaspoons of sugar. Gently massage the scrub on your lips and leave it on for 10 minutes. Then remove with a damp soft cloth. The combination of honey and sugar both scrubs and moisturizes.

Apply an all-natural lip balm that contains sunscreen. There are dozens of options on the market, or you can

make your own herbal lip balm

.
Follow these tips and you and your lips will have a wonderful summer!
[Editor's Note: We love the lip conditioner in Peppermint from Beauty Counter. It keeps our lips moist all year round.
#7 Stainless steel water container
This is an absolute MUST for summer (and year round as well). Banish any plastic bottles (even the BPA-free ones, since BPS is also toxic) and ensure you and every family member has a stainless steel water/beverage container. They are best for your health and the health of the planet.
Read about 4 ways to make sun exposure safe and healthy
#8 Sunglasses
We all want to look cool in our sunglasses, but their real purpose is to protect our eyes from the sun's ultraviolet (UV) rays. Be sure to choose sunglasses that meet the following criteria—and you can still look good too!
Look for a sticker that says the glasses block 100 percent of UV rays. This is the main feature you want from your sunglasses.

Choose big or wraparound-style glasses. These will provide extra protection from UV rays entering the eyes from the side.

Polarized sunglasses reduce glare, but they do not provide extra protection from UV rays. However, less glare, especially when driving, is a good safety feature.

Cost is not a determining factor. As long as the sunglasses you choose block 100 percent of UV rays, you're good to go.
#9 Sunscreen
Choose an all-natural sunscreen and apply it correctly. Too often people spread on some sunscreen and think it will last all day or they don't use enough. You also should wear a hat and long sleeves when possible.
Bottom line
Have a wonderful, safe, and healthy summer. To help ensure that you do, please keep these things on hand for you and your family.
For more healthy tips and information, subscribe to our newsletter.
DISCLAIMER: This article contains affiliate links, which means that if you click on one of the product links, Naturally Savvy will receive a small commission so we can keep pumping out amazing articles like this one. Thank you so much for your support!
Sources
3 ways to incorporate Epsom salts into your summer skincare routine.

Epsom Salt Council
Oliver D. How saltwater really affects your hair and what to do about it. HuffPost 2013 Aug 2