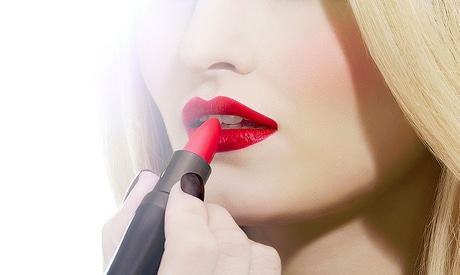 It's an essential part of a girl's daily repertoire. We apply it and then apply it again. At work or at play, defining our lips matters to women of all ages. But what if your lipstick was loaded with toxic heavy metals? A Poison Kiss, a report by the Campaign for Safe Cosmetics, first brought the issue of toxic metals in lipstick to light in 2007. Since then, the FDA has explored the issue in an extensive follow-up study, which found traces of lead in 400 different lipsticks.
According to the FDA, the average level of one part per million (or ppm) poses no real or unusual health risk. But a few factors still remain. First, women reapply lipstick an average of 20 times per day and in addition to lead, lipstick may also contain traces of cobalt, aluminum, titanium, manganese, chromium, copper, and nickel, according to a new study published in Environmental Health Perspectives and reported in The New York Times. Read more about lead poisoning
In the study, researchers picked products favored by teenagers at a community health center in Oakland, Calif. Girls in the study reapplied lipstick an average of 24 times per day. Aluminum, chromium, and manganese registered at the highest concentrations. The average concentration of aluminum, for example, registered at 5,000 ppm while lead was listed at .359 ppm.
Mica, the microscopic little flakes that produce the glittery appearance in many lipsticks, are a naturally occurring mineral that routinely contains lead, chromium, and aluminum.
According to The New York Times:
In the FDA.'s 2011 analysis, the highest lead reading was found in a deep floral pink lipstick and the lowest in a neutral lip balm. A European study found that brown lipstick tended to be highest in lead, while researchers in Saudi Arabia reported that dark colors averaged 8.9 p.p.m. of lead, compared with 0.37 p.p.m. in light-colored lipsticks.
Dr. Sean Palfrey, medical director of the lead poisoning prevention program at Brigham Young University Medical Center wants these trace amounts of metal removed from lipsticks by cosmetic manufacturers because some of the metals are absorbed through the mucosal tissues in the mouth. It's also constantly swallowed and then reapplied. Dr. Palfrey is pushing the FDA to continue research on the dangers.Read more about lead in baby food
According to the study in Environmental Health Perspectives, "[c]osmetics safety should be assessed not only by the presence of hazardous contents, but also by comparing estimated exposures with health-based standards. In addition to lead, metals such as aluminum, cadmium, chromium, and manganese require further investigation."
It's all the more reason to take a closer look at what you're applying to your lips 20-24 times per day.
Photo Credit: jerine