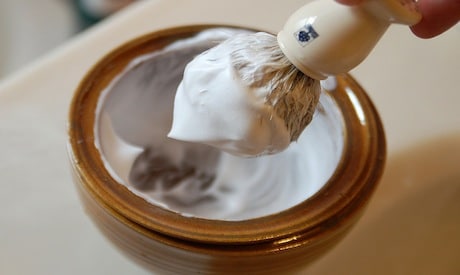 If it wasn't already obvious, those commercial shaving cream products are loaded with toxic ingredients that can make you wish the worst part of shaving was just the occasional nick. But the health effects from long-term exposure to the chemicals in shaving cream can cause skin issues, impact your fertility, and even lead to cancer. How awful!
Shaving creams typically contain any number of unpronounceable ingredients, including: stearic acid (may effect metabolic function), myristic acid, potassium hydroxide (may cause allergic reactions), coconut acid, glycerin, triethanolamine (has been shown to cause tumors and allergic reactions.), fragrance(nervous system depressant, digestive disorders, carcinogenic, ), sodium hydroxide (allergic reactions, respiratory issues), chelators, preservatives and other chemicals with known human health risks.
But, fear not! You don't have to look all Grizzly Man and forego shaving altogether. You can keep shaving, and do it naturally, by making your own shaving cream without the added junk. (Ladies, this also works wonderfully on legs and pits!)
Ingredients
¼ cup coconut oil
¼ cup any of the following oils: sesame, jojoba, almond or apricot kernel (or mix a nice blend of a few)
½ cup cocoa or shea butter or beeswax (if you want it really thick)
1/3 cup aloe vera gel
½ cup Dr. Bronner's soap (unscented or lavender recommended)
3 tablespoons baking soda
30 drops essential oils-recommended: lavender, rosemary sandalwood, clove, mint or cedar (pick one or mix several)
Directions
Place oil and butters in a double boiler and slowly heat until melted. Remove from heat and add in the aloe, soap and baking soda and stir well. Add in the essential oils and pour the mixture into a glass jar that seals. Leave the lid off while the mixture cools, giving it another few stirs. Then cover and use as you would shaving cream.
If this recipe is too labor intensive, you've also got the option of shaving just with oil (any of the recommended ones above such as coconut or almond). Oils make for a smooth glide and lock in moisture, which can help to prevent razor burn and dry skin. But if you've only ever shaved with cream, it can take some getting used to.
Keep in touch with Jill on Twitter @jillettinger
Image: Scott Feldstein