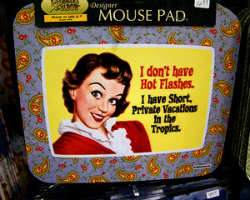 I am a woman who has gone through the transition of menopause and who has come out relatively sane (I think!). But the stereotypes about women going through "The Change," are not all complimentary. We are supposedly all moody – actually bitchy is often the word – forgetful, scattered, and constantly experiencing hot flashes. But a healthy dose of humour can go a long way to cooling things down.
Of course where there are stereotypes, there is truth, and the truth is that there are many women who experience some or all of these symptoms.
But just what is menopause? Judith Lasater, renowned teacher of yoga therapeutics puts it this way:
"Menopause is that rite of passage that marks the beginning of the second half of a woman's life… menopause heralds the passage to woman elder. Menopause is just as important a part of the heroine's journey as menstruation."
Relax and Renew: Restful Yoga for Stressful Times, Judith Lasater
Menopause is the time when a woman stops menstruating. Before her last period, the time known as perimenopause, her ovaries slow down production of progesterone, estrogen and testosterone, and she has fluctuating periods. For most women perimenopause begins in the early forties, and can last about four years. Menopause will then come in the mid to late forties and early fifties, with the average age being 51 years.
Women going through perimenopause often experience no noticeable symptoms, but others suffer from the classic signs – fatigue, insomnia, hot flashes, headaches, bloating, weight gain, irritability, decreased libido, vaginal dryness, and skin changes. Usually by the time a woman has reached her menopause, most of the symptoms have disappeared.
Many women have written about their passage through menopause, some very seriously, and others with tongue firmly planted in cheek. Take Marjorie Dorfman in her blog "Menopause: Is It Really for You?"
"Because your body is unable to lubricate itself, sexual intercourse may be unpleasant. An over the counter jelly purchased while wearing a mask and dark glasses can help."
The humour that surrounds menopause is often very caustic: "I'm going through menopause. What's your excuse?" Or another woman blogs: "talk about hot flashes, I remember cooking once with a bag of frozen vegetables on my head!"
I've often wondered if such humour is written by men. But I've found many instances of women finding the humour in this rite of passage, including Erma Bombeck and Rita Rudner.
"I'm trying very hard to understand this generation. They have adjusted the timetable for childbearing so that menopause and teaching a sixteen-year-old how to drive a car will occur in the same week." – Erma Bombeck
"Male menopause is a lot more fun than female menopause. With female menopause you gain weight and get hot flashes. Male menopause – you get to date young girls and drive motorcycles." – Rita Rudner
Humour, as they say, is the best medicine, and the ability to laugh at oneself is a great healer. Honestly, if we didn't laugh at ourselves we might actually go as psycho as the menopause stereotypes imply.
Photo Credit: godutchbaby / CC 2.0