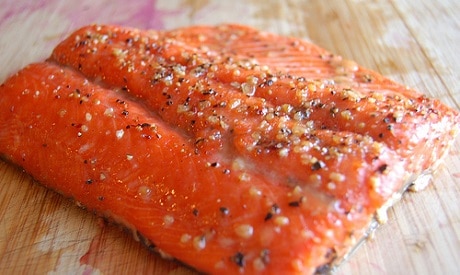 From boosting brain function to promoting digestive health and regulating moods, there's a laundry list of benefits that come from eating omega-3 fatty acids. And according to new research from Swedish researchers, we can add preventing rheumatoid arthritis-particularly in women, who are two to three times more likely to develop it– to the list.
The National Institute of Health's Medline Plus reports via Reuters Health that between 1987 and 1997 the researchers surveyed via diet questionnaire more than 32,000 Swedish women born between 1914 and 1948 (the disease typically appears when people are in their 60s) to determine their fish consumption. They then used national registries to monitor new diagnoses of rheumatoid arthritis.
A total of 205 women in the study had developed the disease, but researchers found that the amount of fish the women ate, as well as how frequently they ate it, and what type of fish they ate had a significant impact on their risk of developing rheumatoid arthritis. Those women who ate one or more servings of any type of fish each week over a seven-year or longer period of time reduced their risk of developing the disease by 29-percent, and those who regularly ate fish that was high in omega-3s over an extended period of time decreased their risk of developing the disease by 52-percent.
According to the report, the link between omega-3s and the reduction in risk of rheumatoid arthritis appears to stem from the fact that the body uses omega-3s to develop molecules that help regulate inflammation.
Daniela Di Giuseppe, lead author of the study, told Reuters Health, "This study is the first to attribute the protective effect of fish against rheumatoid arthritis to its content of omega-3 fatty acids."
While you can get some of the benefits of omega-3s from foods such as flaxseed, olive oil, and walnuts, the only way to get all of the benefits is by consuming fish or fish oil supplements. The American Cancer Society says the best sources of omega-3 fatty acids are certain cold water fish including salmon, herring, striped bass, tuna, halibut, and sardines. So, making an effort to add these fish to your diet on a regular basis could be the difference in developing rheumatoid arthritis or not down the road.
Image: snowpea&bokchoi