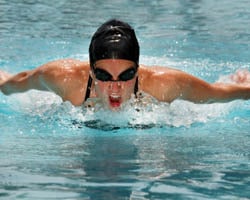 With the colder months coming to an end, many of us are searching for ways to shed our winter coat. Experts state that the best way to challenge your body is to change your fitness routine frequently. We often get stuck in the traditional forms of exercise that we have participated in for years. Spicing up your fitness routine will challenge both your body and your mind.
Need some ideas on how to spice up your work outs?
Take a look at some of the ideas below:
Yoga – If yoga has been your exercise of choice, why not venture out to a Power Flow Yoga class. These classes include consistent flow and movement providing your body with a change from the meditative state. In many locations in the US and Canada, Hot Yoga has become a recent phenomena.  Adding the heat element to any exercise routine will assist in activating the lymphatic system as well as act a gentle detoxification.
Running – North America is filled with runners. It is by far the easiest and most cost effective form of exercise. You can run anywhere and the only essential equipment is a pair of running shoes. If you are already a runner, you may consider joining a running group. You will have the opportunity to meet people with similar interests and it would provide you with the additional challenge or motivation you may not have experienced when running on your own.
Perhaps a race would be more enticing for you. Marathons, half marathons, or regular street races are a great way to increase momentum and break the monotony. Search the internet for source races near you.
Swimming – If you have been swimming a while, why not look into training for a Try a Tri. These are mini triathlons that are just long enough to challenge the average athlete looking to venture into something new. Some may stay away from Tri's because of the length and training involved. The Try-a-Tri programs allow individuals a taste of the triathlon bug.
Weight training – Many of us spend numerous hours in the gym with mediocre results. Plyometrics is a great way to challenge the body. Plyometric movements use gravity, speed, and repetition to improve the functions and performance of our muscles. It can be used for specific sport training or for general strength building.
Taking your fitness program to the next level will benefit your physical development and improve your mental strength. Are you ready to challenge your fitness routine?