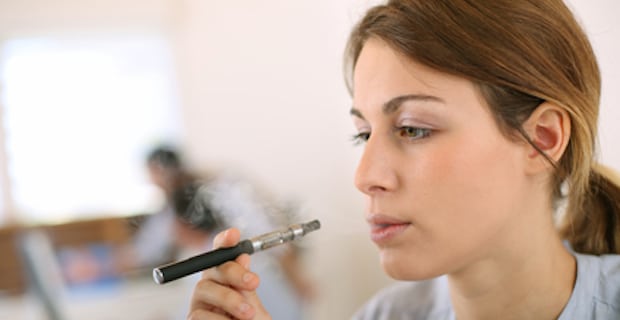 E-cigarettes are on track for record sales. The industry hit nearly $2 billion in sales in 2013, tripling its figures from 2012. Some think they could surpass traditional cigarette sales of $80 billion annually within a decade, but is 'vaping' and e-cigarettes the next Big Tobacco?
Considering their vigorous marketing campaigns with many of the same characteristics, including aiming for glamor and targeting kids, that remains to be seen, but many questions surround this new trend. Here are some facts about e-cigarette safety and vaping.
1. Liquid tobacco is toxic.
They're made with liquid nicotine that's extracted from tobacco, but unlike tobacco leaves, the liquid form is poisonous. It must not be ingested or absorbed by the skin. In fact, less than one tablespoon of some e-cigarette brand liquid tobacco is enough to kill an adult. From 2010 to 2014, the number of calls to poison control centers regarding e-cigarettes went from 1 to 215. This calls e-cigarette safety and vaping into question.
2. E-cigarettes are unregulated.
There's no quality control, because although the FDA has looked into regulation, it hasn't happened yet. With little to no regulation, companies do not have to disclose ingredients and some brands may contain toxic chemicals like diethylene glycol, an ingredient in antifreeze. While they're considered safer than combustible cigarettes, remember low tar and lite cigarettes were considered safer in the 1970s.
Read more about label loopholes and hidden ingredients
3. They're marketed to kids.
Candy and fruits flavored e-cigarettes are most definitely marketed toward kids and it's working because their use is on the rise in middle and high school settings. "With e-cigarettes, we see a new product within the same industry — tobacco — using the same old tactics to glamorize their products," Erika Seward, the assistant vice president of national advocacy for the American Lung Association said on ABC News. "They use candy and fruit flavors to hook kids, they make implied health claims to encourage smokers to switch to their product instead of quitting all together, and they sponsor research to use that as a front for their claims."
Read more about dangerous chemicals in kids' toys
4. Science has yet to catch up.
The jury is still out as to how dangerous e-cigarettes are because they are so new. "As for long-term effects, we don't know what happens when you breathe the vapor into the lungs regularly," Thomas Glynn, the director of science and trends at the American Cancer Society said on ABC News. "No one knows the answer to that."
Image: Monica Grigsby