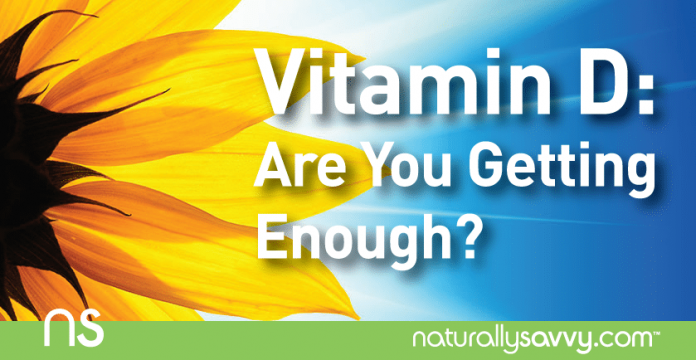 Vitamin D is an all-star in the vitamin world and with good reason, it has a well-established role in reducing cancer risk, heart disease, stroke, diabetes, autoimmune diseases, and it helps with the absorption of calcium. Vitamin D is a hormone your body can make from the sun, but even still, 40 to 75 percent of the population is deficient in vitamin D.
Why are so many of us deficient in Vitamin D?
It's a combination of factors. First of all, there aren't abundant food sources rich in vitamin D, and the sun isn't always a reliable source. This is because the sun's UVB rays can be blocked during certain seasons, times of days, and at certain latitudes. Air pollution and the use of sunscreen can also reduce our ability to get enough vitamin D from the sun.
Also, people with darker skin as their skin does not synthesize Vitamin D at the same rate as people who have lighter skin.
Read More: 4 Ways to Make Sun Exposure Safe and Healthy
Vitamin D is naturally present in very few foods and that's why since the 1930s nearly all cow's milk has been fortified with vitamin D. Today cereal, yogurt, orange juice, and non-dairy milk like almond and coconut, are fortified with vitamin D.
How much Vitamin D do we need?
For adults up to age 69, you need 600 International Units per day. By age 70, you'll need 800 IU per day. Older adults need more because as you age, your body's ability to absorb it through your skin is reduced. You're also likely to get outside and enjoy the sun's rays less often.
Vitamin D is fat-soluble, which means it's absorbed into the body with the use of bile acids, which are fluids used to absorb fat. The body stores these for use as needed. This means it can build up in the body and can become toxic in large doses.
"There is a potential to cause harm if you overdose on supplements above 4,000 IU/day but there is no fear of overdosing from the sun because your skin acts like a regulatory system, only allowing the production of the amount of vitamin D you need," Patsy Brannon, Ph.D., RD, a Cornell University professor of nutritional sciences said on WebMD.
Vitamin D researcher and Creighton University professor Robert Heaney, MD, agrees with the new level but would like to see it even higher.
"I am delighted the upper limit for vitamin D has been doubled to 4,000 IUs per day, although this is a conservative level, considering the body of scientific evidence indicating it should be 10,000 IU," Heaney told WebMD. "However, few people need more than 4,000 IUs, which will meet the needs of most healthy people, give physicians confidence to recommend supplementation, and allow research at higher vitamin D levels."
In July 2011, the Endocrine Society Practice Guidelines published recommendations for the evaluation, treatment, and prevention of vitamin D recommending an upper limit of 10,000 IU/day.
Food Sources of Vitamin D
1 tablespoon cod liver oil – 1,360 IU
3 oz. salmon – 800 IU
8 oz. fortified dairy or non-dairy milk – 100 IU
8 oz. fortified orange juice – 100 IU
Other Ways to Get Enough Vitamin D
Enjoy the sun for 15 minutes per day without sunscreen in addition to including the above foods in your diet on a regular basis. If this isn't happening in your life, talk to your doctor about supplementation. We recommend high concentration drops. This is also extremely important for people with darker skin.
Bottom Line
Ensuring you have adequate levels of Vitamin D may fend off health conditions in the long run and will reinforce your immune system day-to-day.
Read next:
4 Ways to Make Sun Exposure Safe and Healthy
Vitamin D and Omega-3 Supplements May Reduce Heart Attack and Cancer Risk
Sign up for our newsletter:
DISCLAIMER: This article contains affiliate links, which means that if you click on one of the product links, Naturally Savvy will receive a small commission so we can keep pumping out amazing articles like this one. Thank you so much for your support!