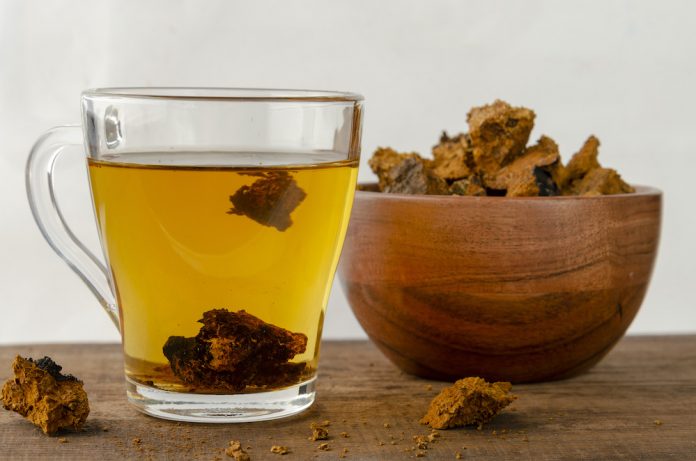 In the northern climates of Japan, northern Europe, Russia, and some northern US states, the Chaga mushroom (aka, the "king of mushrooms") makes its home. That's where it clings mainly to birch trees, although you may also find it hanging onto the ash, beech, and chestnut trees.
What makes the Chaga mushroom a king? It's probably its health benefits because it's not its looks. The mushrooms tend to be lumpy and have a burnt looking exterior with a soft yellow-orange center. They range in size from several inches to as large as a human head.
Read about the many health benefits of mushrooms
Health benefits of Chaga mushrooms
Chaga mushrooms have been used as a traditional remedy for centuries to treat diabetes, gastrointestinal conditions, and heart disease. In recent years, researchers have been exploring the validity of these claims as well as other uses for the king of mushrooms. Here are some of the results of their investigations.
Chaga mushrooms provide powerful antioxidants and nutrients
Chaga mushrooms are the richest known source of superoxide dismutase, a potent antioxidant enzyme that protects tissues. Scientists have also identified at least seven other antioxidants in the mushroom. Other compounds in Chaga include beta-glucan, melanin, vitamin D2, and rare trace minerals (e.g., cesium, germanium, rubidium). All of these elements help make Chaga mushrooms an effective anti-aging supplement and a supporter of immune system function.
Anti-inflammatory effects of Chaga mushrooms
Chaga mushrooms have been shown to reduce inflammation in animal studies. For example, researchers discovered that Chaga extract can suppress the activity of chemical mediators of inflammation in the colon.
Chaga improves endurance and energy
Are you fighting fatigue? Chaga mushrooms have demonstrated an ability to improve energy and endurance, at least in mice. In one study, mice given the mushroom extract showed an increase in glycogen (a polysaccharide of glucose that stores energy) and a drop in lactic acid in blood and serum urea nitrogen. These findings suggest the mushroom has anti-fatigue potential.
Read about mushrooms prove as effective as vitamin D supplements
Chaga mushroom can help fight viruses
Several viruses have felt the wrath of Chaga extracts. In a 2015 study, researchers found that it had an antiviral effect on human immunodeficiency virus type 1 while other research showed it may be effective against hepatitis C virus.
Chaga for boosting brain power
An animal study found that Chaga mushroom extract given to amnesic mice for seven days significantly improved memory and learning while also markedly reducing oxidative stress. The mushroom extract also triggered other processes in the brain that improve cognitive abilities.
Improves immune system function
Animal studies have shown that Chaga mushrooms increase the production of interleukin 6 and T lymphocytes, which are important cells that help to regulate the immune system. According to at least one study, extracts of the mushroom can stimulate lymphocytes in the spleen, an organ that performs various immune system functions.
Anti-diabetes potential
Researchers isolated two polysaccharides from Chaga mushroom and discovered they have anti-diabetes effects both in the lab and in animals. These compounds showed an ability to reduce insulin resistance and blood sugar levels. Much more research is needed to determine the value of these mushrooms in fighting diabetes.
More about Chaga mushrooms
Do you want to reduce your coffee intake? Then try Chaga coffee or tea! Chaga mushrooms were used as a coffee substitute during World War I and II, and it is still being used today. Sometimes Chaga coffee and tea are available in combination with other mushrooms, such as cordyceps. Chaga supplements are also on the market as tinctures, capsules, tablets, and powders. Take according to package directions.
Precautions
If you have kidney stones, mast cell disorders, or other conditions related to oxalate, talk to a health professional before taking Chaga mushrooms, since they are high in this molecule, which can bind to minerals and prevent the body from absorbing them. Therefore, too many oxalates can be detrimental. Chaga mushrooms also have an ability to lower blood sugar and to thin the blood, so it may not be recommended for anyone who is taking blood-thinning medications or diabetes medications.
Bottom line
Chaga mushrooms are an important member of the medicinal mushroom family. Before taking Chaga mushroom supplements for any of the health issues discussed here or elsewhere, consult with a knowledgeable healthcare provider.


[Editor's Note: Our sponsor, North American Herb & Spice has a variety of Chaga products which you can buy on their site or on Amazon.]
Read next:
The Many Health Benefits of Mushrooms
Sign up for our newsletter to receive our latest articles to your inbox:
Sources
Giridharan VV et al. Amelioration of scopolamine induced cognitive dysfunction and oxidative stress by inonotus obliquus—a medicinal mushroom.

Food & Function

2011 Jun; 2(6): 320-27
Kim Y-R. Immunomodulatory activity of the water extract from medicinal mushroom Inonotus obliquus.

Mycobiology

2005 Sep; 33(3): 158-62
Liu P et al. Structure characterization and hypoglycaemic activities of two polysaccharides from Inonotus obliquus.

Molecules

2018 Aug 4; 23(8)
Mishra SK et al. Orally administered aqueous extract of Inonotus obliquus ameliorates acute inflammation in dextran sulfate sodium (DSS)-induced colitis in mice.

Journal of Ethnopharmacology

2012 Sep 28; 143(2): 524-32
Nakajima Y et al. Antioxidant small phenolic ingredients in Inonotus obliquus (persoon) Pilat (Chaga).

Chemical and Pharmaceutical Bulletin

2007; 55(8): 1222-26.
Shibnev VA et al. Antiviral activity of aqueous extracts of the birch fungus Inonotus obliquus on the immunodeficiency virus.

Vopr Virusol

2015; 60(2): 35-38
Shibnev VA et al. Antiviral activity of Inonotus obliquus fungus extract towards infection caused by hepatitis C virus in cell cultures.

Bulletin of Experimental Biology and Medicine

2011 Sep; 151(5): 612-14
Xiuhong Z et al. Effect of Inonotus obliquus polysaccharides on physical fatigue in mice.

Journal of Traditional Chinese Medicine

2015 Aug 15; 35(4): 468-72
Young-Mi Park et al. In vivo and in vitro anti-inflammatory and anti-nociceptive effects of the methanol extract of Inonotus obliquus.

Journal of Ethnopharmacology

2005 Oct 3; 101(1-3): 120-28