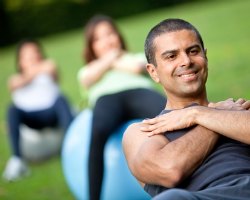 These days, it seems like anyone who is anyone has a gym membership or a personal trainer. From glamorous Hollywood celebrities to the lions of New York City's Wall Street, the wealthy seem to have the best bodies next to professional athletes. Of course, everyone wants to be fit and feel good, but at what price?
Well, we want you to know that you do not need to be making millions to feel like a million bucks. So if money is tight this year, or if you just believe that frugality is the greatest of virtues, we have included a few affordable fitness options to help you to start looking and feeling great on a budget.
Free Classes Do Exist
Yes, we are not kidding! If you are lucky enough to live near a Lululemon Athletica store, take advantage of their weekly free fitness classes. Usually yoga or Pilates, these classes take place in the store, last about an hour, and are taught by professional instructors volunteering their time. Visit their website to find a store near you.
If Lululemon is not an option, try finding a "donation only" yoga studio. Believe it or not, there are many of them in smaller cities and towns. Studios will have a suggested donation amount to participate in a class, which is usually no more than $10.
Swim, Bike, or Run
No, you don't have to take up triathlons, but these are three great ways to stay in shape for free. Running is one of the most natural ways for us to workout, so even if you can only run for a few minutes, you will still increase your athletic performance.
If you have a bike, try to ride it as much as you can. Ride it to work, the grocery store, or around the neighborhood. You will get a great free workout, save money on gas, and reduce your carbon emissions footprint.
If running or biking is not your thing, swimming is also a great low-impact cardio workout. A lot of cities and towns have community pools that are either free or inexpensive to use. Just get some goggles and dive in. Who knows? Maybe you will go for that triathlon!
Get a Book
No longer just for bookworms, your local public library likely has a section for fitness enthusiasts like you. Borrow a book on Pilates, such as Brooke Siler's The Pilates Body. It is an excellent text that helps you get that rockin' body at home using just what nature gave you, and you will learn new ways to keep the body guessing. Or, if you would rather watch than read, pick up a fitness DVD. Forget those cheesy 1980s videos of the past—there are a great variety of DVDs available. From Zumba, the Latin-inspired dance workouts, to Power Yoga or weight training, the sky is the limit for fitness DVD options. Go see for yourself.
Work for trade
A lot of local fitness businesses offer classes in exchange for front desk, marketing, or advertising help. You will usually only need to work for a few hours to get three or four classes per week. Ask the manager at your local gym, YMCA, or Pilates studio if they offer this, and if not, explain your situation and see if you can work something out. In fact, I am writing this article in exchange for classes at RockIt Body Pilates! It never hurts to ask.
Make it regular
Make your workout a habit. When you do not have a trainer, you have to be both the jockey and the horse; no one is going to tell you to run faster or push harder. Find something you like, put a fitness schedule together and stick to it.
Find a friend. We know you have them, so make your frugal workouts fun by working out together. Help each other reach your goals!
Written by: Rebecca Rawling