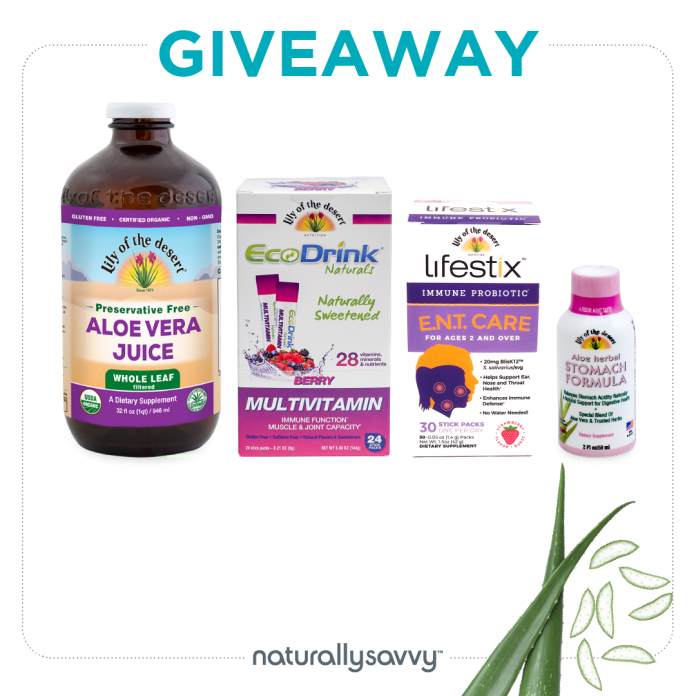 Even though it is still warm outside in most of the country fall is on its way. In fact, by the time we close off this giveaway, fall will officially be here. With fewer daylight hours and less outdoor time during the day, we need to build up our immunity for the coming months.
Lily of the Desert is giving away this amazing prize pack to help. It contains:
Whole Leaf Aloe Vera Juice-We have an article on how aloe vera can help with immunity.
LifeStix E.N.T.-This probiotic is unique and easy to take. Simply put it on your tongue to provide probiotics to your throat when those little tickles come along.
EcoDrink Naturals-A powdered multivitamin that is great to add to your water and sip throughout the day.
BONUSES-Stomach Formula Shot, an Aloe Vera Book, and a Lily of the Desert Bag.
Enter today to qualify for a chance to win one of three prizes valued at $75. Good luck.
Thank you to everyone who entered. Congratulations to our winners:
Kathy C.
James S.
Wendy B.
Stay tuned on our social media for announcements about new giveaways.
Giveaway runs from September 17, 2020 – September 28, 2020.
Open to the US Only. One entry per person.
Giveaway Rules
Privacy Policy