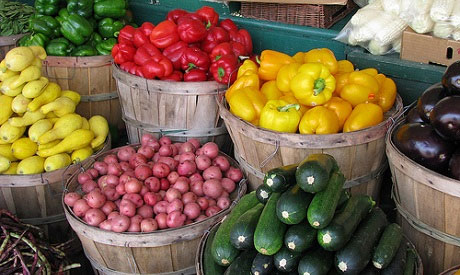 There is no denying that eating fresh produce, meats, and fish is the best thing for our bodies. Unfortunately, it's easy to fall prey to the frozen foods section when you really want snap peas in the dead of winter. So, when summer and all its glorious farmers markets roll around, there is no better time to pick up the freshest of the fresh foods that are being harvested and raised right near you. Some of the findings will be unique while others will be old-time favorites, and while many of them can be eaten with little preparation at all (freshly sliced tomato, anyone?), it's always fun to find new and delicious ways to enjoy all that farmers markets have to offer, so here are ten amazing recipes for farmers market-found ingredients.
7. Chocolate and Balsamic Roasted Beets
8. Grilled Peach and Mozzarella Salad
9. Squash Blossom Quesadillas with Summer Squash Salsa
Shopping at farmers markets will almost always reveal new foods that you haven't tried (or even heard of) yet, and it's a great way to expand your palette and experiment with new recipes. Also remember that most farmers expand their offerings far beyond fruits and vegetables. You can also fnd naturally raised meats and artisan made cheeses as well as locally produced honey. Supporting your local farmers is not only good for the local economy, but it also reduces the environmental impact on getting your food to the table, and allows you to get to know your farmers and their practices so that you can make informed decisions on what you put in your body.
Read more about farmers markets
And remember to preserve some of your farmers market finds by freezing or canning them to ensure that you'll be able to enjoy the flavors of your local land far beyond the growing season.
Photo Credit: NatalieMaynor