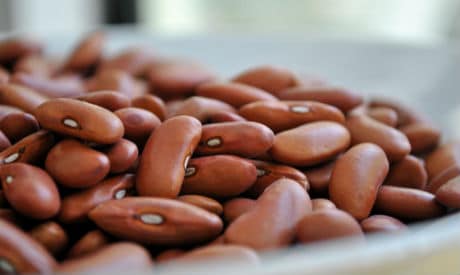 They're kind of the prunes of the protein world, yet even despite the frequent (and sometimes quite funny) flatulence jokes, beans manage to maintain their important place in our diet. Beans are among the easiest and healthiest protein choices by far: they grow in virtually every climate and store much longer than animal proteins. They contain fiber, too, which helps us to feel full longer and is necessary for a healthy heart, cholesterol levels and proper digestive function.
If you shy away from beans out of concerns about flatulence, you can try soaking your beans overnight in a mixture of water and vinegar (1 teaspoon to a quart of water) to help make the beans more digestible. (This is actually recommended for everyone to reduce the enzyme inhibitors and make the beans healthier.) Always avoid canned beans unless the packaging is guaranteed BPA-free. BPA is a harmful endocrine disruptor linked to serious health issues including reproductive and developmental problems and certain types of cancer.
In addition to their many benefits to our health, beans are incredibly versatile, flavorful and fun to work with. There are hundreds of ways to prepare beans (and I'm including lentils, though it's technically a legume). To get you started here are 40 recipe ideas for beans. In most soup and stewed bean cases you can substitute any bean in a recipe with your favorite. Dips, spreads and some other recipes may not have as much flexibility-but you can certainly experiment! Eat on!
Dips and Spreads
Whether dips or pates are your thing, you can make them a whole lot healthier by adding beans. This is great for game day entertaining or for light meals like a late lunch.
2. Spicy refried pinto bean dip
Soups
For many people, soup is the one-place where beans are expected and welcomed (even if loathed elsewhere). Their softness melts into warm soup for hardy satisfaction.
7. Lima bean
11. Cuban black bean
14. Turkish 3 bean
Hearty Meat Replacements
As a protein source, beans are excellent in place of meats, particularly if you're vegan, or when you aren't able to access an organically raised meat product. Veggie burgers made with whole beans satisfy vegans and carnivores alike!
15. Veggie bean burgers, 10 ways
16. Lentil loaf
17. Seitan roast with red lentil
Stewed dishes
Thicker than soups, stewed bean dishes are essential winter eats. They warm the body and spirit. Whether they're served by themselves or part of a meal, they bring new life to bean recipes.
19. Pasta y Fagioli
20. Lentil pumpkin
21. Three Bean Chili
25. Moroccan white beans
26. Red bean stew 
27. Spicy fava bean and eggplant 
Miscellaneous
28. Avocado and pinto enchiladas
29. Black bean tacos
30. Chickpea, spinach and squash gnocchi 
31. Pinto bean pie 
32. Lentil, rice and veggie bake 
33. White beans with roasted red pepper and pesto
34. Mean greens and beans
36. Hoppin' John black-eyed pea fritters
38. Okra gumbo with chickpeas and red kidney beans
40. Vegan beanballs
41. Bean Bolognese
Keep in touch with Jill on Twitter @jillettinger
Image: cookbookman17