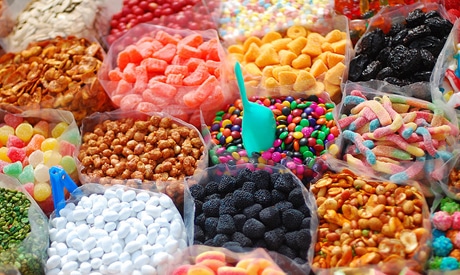 The U.S. is known for its overweight population. More than one-third of U.S. adults (35.7 percent) are obese. We eat a lot of processed foods. But what if these processed foods were inherently more dangerous? GMOs and dangerous additives that are illegal in other countries are often sold in U.S. processed foods with no warnings. Here are some of the most frightening food or food additives still legally sold in the U.S.
Read more about The Scary Seven™ food ingredients to avoid
1. Arsenic in chicken
Arsenic-based drugs are approved for use in animal feed because they include organic arsenic, which is less toxic than inorganic arsenic, according to the FDA. This is because inorganic arsenic in more readily absorbed in the body. The EU does not permit arsenic-based drugs in food animals.
2. Olestra
Olestra is a fat substitute used in fat-free chip products, namely the WOW chip (now Frito Lay's 'Light' chips). It was approved by the FDA in 1996 but has real problems attached to it because it keeps the body from absorbing nutrients, causes stomach cramps, and can give you loose stools.It's banned in Canada and the EU.
3. Brominated Vegetable Oil (BVO)
BVO is linked to thyroid cancer, and for this reason it's banned in more than 100 countries. But in the U.S. it's used as a stabilizer in beverages and chips. Pepsi recently replaced the ingredient in its Gatorade products. We'll see if Coca-cola replaces it in its Powerade products next.
4. Artificial Coloring
The FDA is examining whether artificial food dyes cause hyperactivity in children. Artificial food dyes are made from petroleum, which is also found in gasoline and tar. They're banned in Norway, France, The United Kingdom, Austria, and Finland because they're linked to birth defects and hyperactivity in kids. The Center for Science in the Public Interest wants the FDA to ban eight artificial food dyes, particularly Red No. 40, Yellow No. 5 and Yellow No. 6.
Read more about artificial colors
5. Hawaiian GE papaya
While not processed in the traditional sense, Hawaiian GE papaya is genetically engineered to be resistant to the ringspot virus. In 1998, the first GMO Papaya was commercially released into Hawaii's growing environment, and since then it's drastically taken over the lucrative export of organic papaya. Additionally, there are fears that the contamination with organic seeds has gotten out of control on the islands. GE papaya is banned in the EU.
What you'll notice from the list above is that you can easily avoid these ingredients if you buy organic and stick to unprocessed, whole foods. Additives are becoming a real problem because more and more are being added without the FDA's oversight. Between 1997 and 2012, food manufacturers started using 1,000 additives that were not tested by the FDA. 
Photo Credit: chris.vandyck