Protein powder doesn't get the love it should. While most of us add a scoop or two to our smoothies and smoothie bowls, it often gets left out of baked goods and treats which are perfect vehicles for it. These recipes taste just as good (or better) and the added protein is a great energy boost at breakfast or for the 3 pm slump. We recommend a high-quality protein powder like those from our partner VeganSmart.
1. Berry Protein Pancakes
These pancakes are easy, healthy, and only have four ingredients. Mix together half a banana, ¼ cup of berries, an egg, and 1 scoop of berry or vanilla protein powder. You can mix it by hand or in a blender. Cook in a skillet for 2-3 minutes each side on medium-high heat.
2. Energy Balls
These energy balls make a great snack and are highly customizable. Add in nuts, chocolate chips, or coconut flakes to change up the flavor. Combine ½ cup rolled oats, 4 scoops vanilla protein powder, ½ tsp cinnamon, ½ cup natural peanut butter or other nut butter, 3 Tbsp honey, 1 tsp organic vanilla extract, and 2 Tbsp coconut oil in a large mixing bowl. Add in your desired mix-ins. Stir until well combined, roll into small balls, and freeze 5-10 minutes.
3. Pumpkin Spice Oatmeal
This breakfast staple gets a protein boost but still tastes like comfort food. If you can find chai-flavored protein powder (VeganSmart has one) the flavor will be even more intense, but vanilla will work as well. Combine one 15-oz can pumpkin puree, 2 cups of dairy-free milk, 2 scoops protein powder, 1 tsp pumpkin pie spice, 1 tsp vanilla extract, ¼ cup Xylitol (or Stevia to taste), and a pinch of sea salt. Simmer over medium heat, then reduce to low-medium. Add 2 cups rolled oats (regular or gluten-free) and cook 10-15 minutes, stirring often.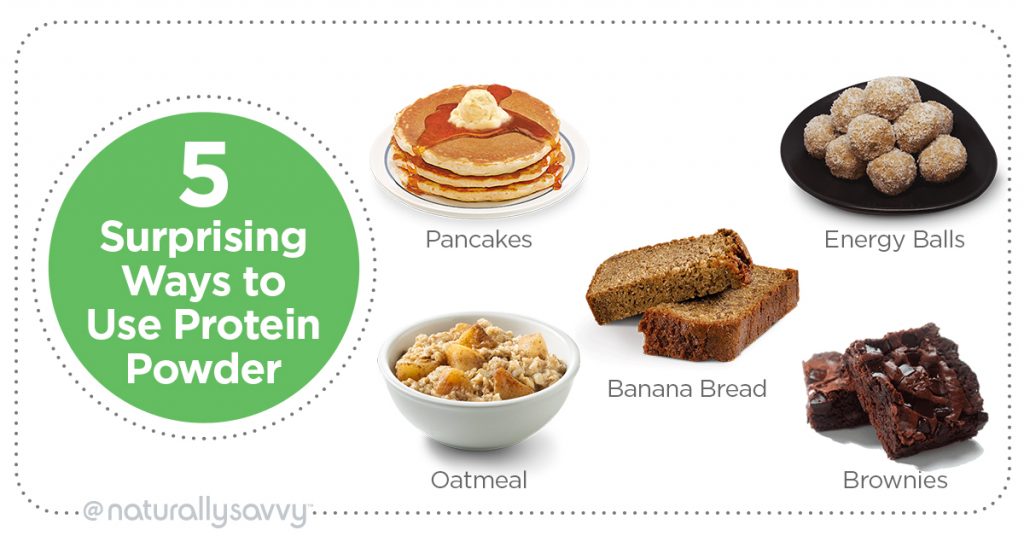 4. Banana Bread
This banana bread is so healthy you can have it for breakfast guilt-free. Combine 3 mashed ripe bananas, ½ cup Xylitol, 1 egg, ¼ cup butter, and 2 scoops of vanilla protein powder in a bowl. Mix well. Combine 1 cup whole wheat flour, 1 tsp baking soda, and 1 tsp salt in another bowl and slowly add to wet mixture. Add to greased baking pan and bake at 325F for 1 hour.
5. Chocolate Brownies
Skip the black beans and add a chocolate protein powder, like VeganSmart's plant-based chocolate options. Combine ½ cup flour, ½ cup Xylitol or coconut sugar, ½ cup room temperature butter, 2 eggs, ¼ cup cocoa powder, and 3 scoops protein powder. Mix well. Bake at 325F for 25-30 minutes, checking for doneness.
Bottom Line
Protein powder isn't just for smoothies. Try some of these recipes or let us know some of the creative ways you use protein powder in the comments below.
DISCLAIMER: This article contains affiliate links, which means that if you click on one of the product links, Naturally Savvy will receive a small commission so we can keep pumping out amazing articles like this one. Thank you so much for your support!
Sign up for our newsletter to receive more healthy information and recipes to your inbox: