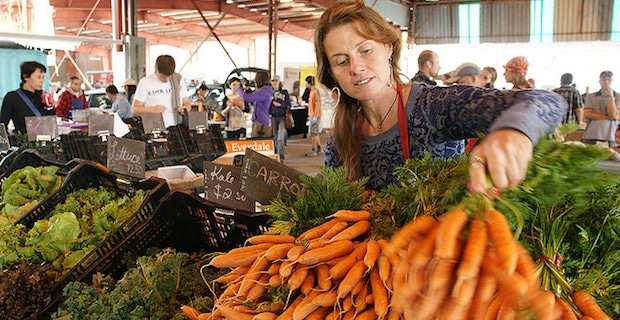 The lower your income, the more difficult it is to be picky about what you feed your family–let alone eating healthy.
What's more, it's no revelation that foods that target lower income shoppers tend to include more GMOs and toxic ingredients. Fortunately, there are ways to look after your family's nutritional health without breaking the bank.
[Infographic] The 8 Most Common Genetically Modified Foods
If you're new to living the organic lifestyle and are on a tight budget, here are 5 ways to get you started eating healthy:
1. Buy Local
In the big picture of food production, locally produced food has an important role to play in keeping our bodies and bank balances healthy.
Consider the conclusions of a 2005 study published in the journal Food Policy. A team of scientists found that people can help their environment significantly by buying food from within a 20km (12-mile) radius of their homes. By their calculations, if foods were sourced from within 20km of where they were consumed, environmental and congestion costs in the UK would drop more than £2.3 Billion annually (approximately 3.8 Billion USD).
Buying locally produced food might seem impossible if you live in a big city. But by visiting farmers markets or making use of delivery schemes, you can drastically cut your contribution to food miles and put fresher, healthier food on the table.
2. Buy in Bulk
It's hard to think about building your pantry when you are living paycheck to paycheck. However, this tip is vital and all it requires is to purchase one bulk item per shopping trip. In a few months you will have built a pantry that will allow you to make higher quality purchases on your weekly grocery trips.
The Organic Prepper has some great ways to build your pantry, such as:
Shopping the sales.
Buying in bulk – there are some great discounts to be had.
Buying from local farmers and preserving the harvest.
Getting a fall garden going.
3. Grow Your Own Food
Growing your own food is easier than you think. Not only that, it is an affordable alternative to ensure the food you eat is actually food! For those who are new to growing food, simply go to YouTube and type in whatever you want to do and a video will guide you through it every step of the way.
Read more about learning to garden organically
For those who live in the suburbs, make use of every square inch of your yard. Plant in the existing flowerbeds, grow things vertically, grow vegetables in the front yard. Extend your growing seasons by using greenhouses. This way, you can grow more than one crop per year in a limited amount of space. Use raised bed gardening to create rich soil.
For those who live in the city or in an apartment, there are ways to adapt to your situation. Grow a container garden on a sunny balcony and don't forget hanging baskets. Grow herbs and lettuce in a bright window. Put in a hydroponics system. Go even further and look into aquaponics. Investigate a little greenhouse with a grow light for year round veggies. Sprout seeds and legumes for a healthy addition to salads.
For those who live out in the country, go crazy. Don't just plant a garden – plant fields! Plant a food forest. Grow vegetables and grains. Grow herbs, both culinary and medicinal. Learn to use old-fashioned methods of composting, cover crops and natural amendments to create a thriving natural system.
Read more about gardening with limited space
4. Eat the Best Quality You Can Afford
If you eat meat, your best options, if you can't afford organic, are to go for the hormone and antibiotic-free offerings. If you're a vegetarian or vegan, if organic produce is not an option, look for the items with the lowest pesticide loads.
Note: Be scrupulous about food hygiene. Wash your produce thoroughly and soak it in a vinegar bath. Also remember to carefully wash your beans and rice.
5. Eat Seasonally
By eating foods that are in season, we are eating foods that are at their peak taste, are the most abundant and also the least expensive. There are now fantastic guides to show you what is in season.
Not only is eating with the seasons less expensive, it can provide a greater variety in the diet, reducing exposure to the antifungal and antibacterial chemicals commonly used to extend the shelf life of products grown out of season or that need to be shipped half way across the planet.
Some good healthy options are:
Apples (peeled)
Asparagus
Cantaloupe
Grapefruit
Mangoes
Pineapples
Rutabagas
Sweet Peas
Ultimately, it's a personal choice..
Do your research and do the best that you can with what's available given your resources. Then create a plan to provide better options in the future. Do whatever you can to ignore the toxic trail laid out by Big Food and the healthy organic opportunities will present themselves.
Remember, if you think good food is expensive, you haven't priced bad health lately.
Lastly, nobody does this alone. Reach out to people who are already living an organic lifestyle; you'll be amazed at how much support is available and how willing people are to help out.
Image: Chris Kalbfleisch
---
Written by: Christopher Drummond