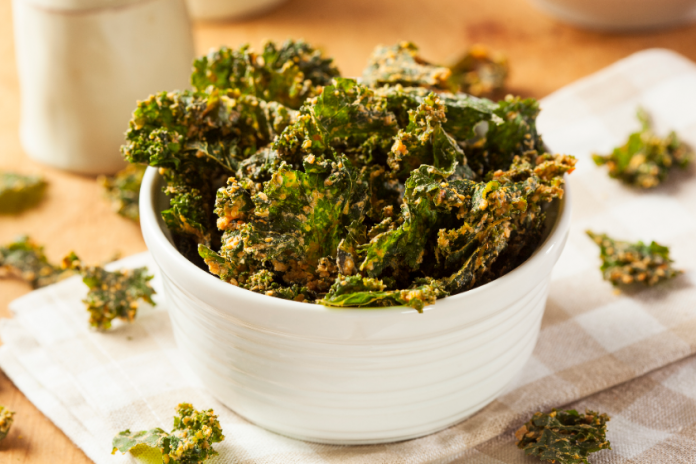 Many of us vow to change our eating habits for the better as we enter the new year, and for some that means considering an entire new dieting program. For others, it may mean taking it slower and electing to make a few healthier choices along the way; some novel and exciting food swaps for the coming year that will not only boost our nutritional intake but also add some pizzazz to our menu. As an extra bonus, most of the following food swap ideas are also a great way to get your kids (as well as reluctant adults!) to get more fruits and veggies in their diet.
Kale chips vs potato chips. You know how the saying goes: bet you can't eat just one! When it refers to potato chips, that could mean you are chowing down on high-fat, high-calorie, processed chips. However, when you substitute kale chips, especially those you make yourself, enjoying a handful or two becomes a much healthier venture. This recipe is simple enough for even young children to make (with a little supervision, of course).
Frozen banana and berry cream vs ice cream. The number of nondairy ice creams on the market is growing at a rapid pace, and many are truly delicious. But what if you want to make your own swap at home? The next time you know you won't be eating the bananas sitting on the counter in time, pop them into the freezer (already peeled and individually wrapped in parchment paper). When you're ready for a delicious frozen banana and berry dessert, take one peeled frozen banana, a cup of frozen berries and some coconut milk. Pulse in a food processor until smooth, put on your favorite topping, and enjoy!
Also read 7 surprising food swaps for even healthier eating
Mashed turnips and cauliflower vs white potatoes. Cauliflower rice and mashed cauliflower is rapidly becoming more mainstream as substitutes for rice and mashed white potatoes, but what if we add a twist? Turnips are an often neglected veggie, and as a member of the cruciferous family (as is cauliflower), it is an excellent ingredient for a mashed cauliflower and turnip mash. Feel free to decrease or increase the cauliflower as you wish. Enjoy!
Butternut squash toast vs bread. Here is yet another swap for regular grain-based toast: butternut squash rounds. Similar to sweet potato toast, these highly nutritious veggie toast alternatives are naturally gluten-free and are a super platform for experimenting with various toppings. Whether mashed avocado and chia nuts are your favorite, or nut butter and banana slices, check out the recipe for butternut squash toast here, and get ready to enjoy an incredible tasty treat.
Also read 5 food swaps for heart health
Portobello mushroom vs a hamburger. More and more people are making the switch from meat-based burgers to plant-based varieties, whether they come from a favorite grocery store or they are DIYs. How about going one step further-Portobello mushroom burgers! These thick, juicy mushrooms are heavenly when grilled with garlic, herbs, and olive oil and serve open-faced or nestled between two pieces or lettuce or a whole-grain bun, and topped with salsa, sprouts, caramelized onions…is your mouth watering?
Carrot dog vs hot dogs. Hot dogs (aka, weiners) are an American favorite, but if you're looking for an alternative, organic tofu dogs can be quite tasty, but they aren't for everyone. Enter the carrot dog. When you marinate and grill carrots, they take on a special texture and flavor that lend them to a whole-grain bun and all the traditional fixings. Why? Why not! Try a carrot dog recipe and see what you think. Here's a picture of a carrot dog I ordered at a restaurant recently. It was quite good! Even my husband, who loves a good meat dish, thought it was tasty.