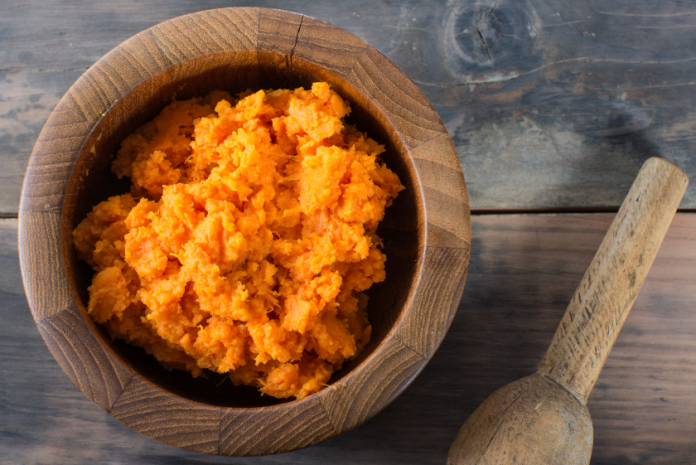 Sweet potatoes have a bright orange flesh that's an unsurpassed source of beta-carotene and vitamin A. Sweet potatoes are also inexpensive and they last a long time before going bad. They're a great way to amp up your nutrient density on the cheap. Here are some unconventional ways to put them to work in your diet.
1.  Sweet Potato Puree
Pureeing sweet potatoes is one of the easiest ways to add them to your diet. Peel 3 sweet potatoes and cut into 2-inch chunks. In a large saucepan, cover potatoes with water and bring to a boil. Cook for 15 to 20 minutes until a fork easily pierces the skin. Substitute sweet potatoes for regular potatoes in a shepherd's pie. Add them to brownies, muffins, soups, or even the inside of a quesadilla. Try this tasty recipe for sweet potato recovery bars.
2.  Sweet Potato Fettuccine
Use a mandolin to create pasta-like strips with sweet potato and then use it as the base of any number of pasta dishes. Try this clever recipe from the North Carolina Sweet Potato Commission for sweet potato fettuccine.
3.  Jerk Sweet Potatoes
Sweet potatoes aren't often thought of in Jamaican recipes but they should be. Use ginger, coriander, and jerk seasoning to amp up your jerk sweet potatoes.
4. African Peanut Stew
This African Peanut Stew is all about a delicious flavor combination of chicken, peanuts, and sweet potatoes. This hearty, spicy, West African soup is ideal for a cold winter night.
5. Soba Noodles in Broth With Sweet Potato, Cabbage and Spinach
Soba Noodles in Broth With Sweet Potato, Cabbage and Spinach is a Japanese soup infused with a hint of sweet potato. Warming yet light, it's loaded antioxidants to help you fight through the cold weather.
6.  Sweet Potato and Black Bean Empanadas
These pastries are wildly popular in Central and South America. A great tapas or snack, these Sweet Potato and Black Bean Empanadas are a great way to add in sweet potatoes to your diet.